A concern I have about my own side is, what the main activists in the pro-life or anti-abortion community want is an overturn of Roe vs. Wade. I am not at all convinced that if that were to actually happen that they would like the world that they would see on the other side.
David Gushee, a Christian ethicist and professor at Mercer College, during his
public dialogue
with Frances Kissling, a long-time reproductive rights activist and former head of Catholics for Choice
179 Plays
Pro-Life, Pro-Choice, Pro-DialogueOn Being with Krista Tippett
Download External Audio
No issue in America is more intractable than abortion. Or is it? A conversation with long-time reproductive rights activist Frances Kissling and Christian ethicist David Gushee that doesn't begin or end in the predictable places.
"A real building is one on which which the eye can light and stay lit."
—Ezra Pound, poet and art critic, from a letter published in Dial Magazine (cited in Ezra Pound and the Visual Arts).
Photo by Drew Geraets (distributed with instagram)
Wisdom on Alzheimer's Disease Gained from Nuns
by Susan Leem, associate producer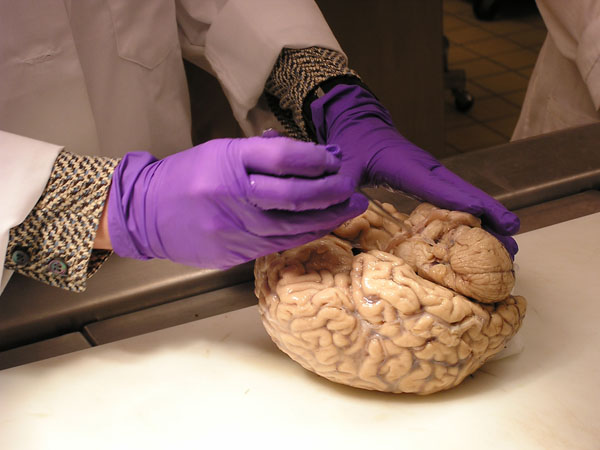 Dr. Karen Santa Cruz of the University of Minnesota examines one of the 670 brains in the Nun's Study, looking for signs of dementia. The brain pictured here is more than 75 years old and still looks healthy says Dr. Santa Cruz. (photo: Lorna Benson/MPR News)
The nuns of the School Sisters of Notre Dame made headlines in Time magazine a decade ago for making an unexpectedly profound contribution to how we understand Alzheimer's disease.
Looking for a research project, David Snowdon became interested in the convent after a graduate student, a former nun, told the young epidemiologist about a retired community of nuns living out their days in Mankato, Minnesota. These women turned out to be ideal for research into aging because of their similarities in lifestyle. Snowdon didn't know exactly what he was going to find among these nuns, but struck gold when finding their personal records in an old olive green file cabinet. The biographical essays they wrote as young women in their early 20s held clues to the way they aged over 50 years later.
What Snowdon found was a correlation between low grammatical complexity in their writing and low "idea density" among sisters who had Alzheimer's disease. An example of a low-scoring sample:
"My father, Mr. L.M. Hallacher, was born in the city of Ross, County Cork, Ireland, and is now a sheet-metal worker in Eau Claire."
On the other hand, a high-scoring essay looks more complex:
"My father is an all-around man of trades, but his principal occupation is carpentry, which trade he had already begun before his marriage with my mother."
These high-scoring writers avoided dementia in their later years and performed better on other cognitive tests. Later, Dr. Snowdon pursuaded the nuns to donate their brains to science. Among the participating nuns who died, none of the high-density ideas nuns' brains showed evidence of Alzheimer's disease, while it was physically present in all of those with low idea density.
Researchers at the University of Minnesota now carry this research forward, trying to figure out why some of the nuns' brains look diseased post-mortem, but before death, these women managed to live out their final days without dementia.
Another researcher in Canada has recently discovered that bilingual speakers can also stave off Alzheimer's by a few years more than monolingual speakers.
Could there be a protective quality to maintaining your linguistic skills? Or is it that these nuns have always had a bit extra reserve of cognitive ability to weather the ravages of aging? Thankfully, this research provides more insights into questions like these as this massive longitudinal study involving over 600 nuns continues.
Shared Cultural Spaces: Islam and the West in Arts and Science
by Shubha Bala, associate producer
When we think of historic Islamic scholars, it's easy to think of philosophy and literature and forget the science. From February 24-26, the University of Minnesota's program in Religious Studies held the Shared Cultural Spaces conference, which aimed to "explore the ways in which Muslim contributions to literature, arts, science, and architecture have influenced and become foundational to Western humanistic and scientific expressions."
George Saliba, a professor of Arabic and Islamic Science at Columbia University in New York, opened, "If you attempt to take out the Arabic influence from Renaissance science, you'd be left with a dead body." He spoke passionately about the transmission of astronomical ideas from the Islamic world to the Western world. For example, the Egyptian astronomer Ptolemy wrote about the world being a sphere rotating on an axis that did not pass through the centre. It was Arabic thinkers that later realized this was impossible and proposed a new model with a central axis, and the moon revolving around the Earth.
Dr. Saliba, amongst many scholars, argues that Copernicus had access to the documents by Islamic astronomers, specifically by Ibn al-Shatir. Copernicus is now, according to Saliba, incorrectly attributed with having discovered several astronomical models that were first discovered by Islamic scholars.
Hamid Rassoul, himself a "veteran of space science" at the Florida Institute of Technology, went on to present four important Islamic thinkers: Razi, Biruni, Sina, and Khayyam. These four thinkers had lasting influence in philosophy, medicine, music, math, and science. According to Rassoul, around the ninth century Al-Razi created the most medical volumes ever by one person. His descriptions of human physiology and illnesses, amongst his many medical findings, were translated into Latin and were used for longer than any other medical textbooks.
This conference session just touched the tip of the iceberg of how Muslim scientists brought Western science forward, and of course, continue to today. Who are the great Islamic thinkers that inspire you?
Today! SOF Live from the University of Minnesota
Engaging Religious Communities Abroad
» chat while you watch on our SOF Live page
Monday, May 5, 2010 (12:30pm Central)
University of Minnesota Humphrey Institute
Minneapolis, Minnesota
We're now streaming streaming live video of a public dialogue event with Krista from the University of Minnesota's Humphrey Institute. Krista Tippett is moderating a panel with Richard Cizik, R. Scott Appleby, and Rachel Bronson discussing how the U.S. can develop better strategies for incorporating an understanding of religion into its foreign policy. How might religious communities help development, human rights, the environment, and peace around the world?
We'd love to hear your thoughts about this conversation. Please add your comments here.
Trent Gilliss, online editor
SOF Live! Krista in Conversation with Robert Wright
February 2nd, 2010 ~ 7:00–8:30 pm CST
Cowles Auditorium, University of Minnesota HHH Institute (get directions)
» watch online | » RSVP by emailing hhhevent@gmail.com
We will be live-streaming video of Krista's interview with New York Times best-selling author, Robert Wright. He's the author of The Evolution of God, Nonzero: The Logic of Human Destiny, The Moral Animal, and Three Scientists and Their Gods. Professor Michael Barnett will moderate the question-and-answer session with our in-house and online audiences. The program will be followed by a reception in the Humphrey Center atrium.
We will start broadcasting video of the event at 6:45 pm CST, 15 minutes before the start of the interview. If you plan to attend in person, please RSVP by sending an email to hhhevent@gmail.com. There's a hard start time of 7 pm for this event. And, please stop by and say hello!
Life in Doris Taylor's Lab
Andy Dayton, associate web producer
After watching Krista's interview with Doris Taylor, it was hard not to want to see her lab in person. Krista referenced Laurie Zoloth's phrase "fiction science" during her conversation with Taylor and many of the the mental images that resulted — decellularized "ghost hearts," cells beating in a dish, rows of pumping regenerated rat hearts — seemed to fit into that category.
So, I was excited to see how those images would hold up when we made a trip Taylor's lab several months after the interview. While we didn't didn't see rows and rows of beating hearts, in the video above, we did see a singular regenerated rat heart beat in an apparatus Taylor called a bioreactor, and a moment later we also heard the story of the man with an incurable heart disease who told her that she was "building hope."
And, in this video, we also saw the magnified image of beating heart cells as Taylor explained why "cells alone don't make a heart" and Krista handling animal organs with their cells removed as she discussed the "surprising beauty" of the heart with Taylor (see video below).
And while the fiction science elements of her lab were fascinating, it was most engaging to see Taylor's energy and passion come out while she was clearly in her element. Her perspective helped keep what might sound like a Mary Shelley-inspired experience focused on the aspect of her work she seems to be most interested in — life.