The Quiet Man
by Norman Allen, guest contributor
For my father's memorial service, my sister suggested that I stand before the congregation and say, "We'd like to share with you exactly what it was like to live with our father. So let's have a moment of silence."
It's not that Dad didn't speak, it's that he didn't speak about the personal. He could rant against George McGovern and lift Richard Nixon up as a god, but remain entirely silent about my sister's adolescent breakdown. A few years later, he declared my hero Jimmy Carter the "greatest embarrassment the White House has ever seen," but didn't say a word about my recent emergence from the closet.
Dad built his life on the foundations of a suburban existence: retirement plans, company loyalty, and a close-knit family that gathered to wave him down the street each morning and waited each night for his return. True to his class and time, he made himself a Manhattan before dinner and smoked incessantly. No one was going to change that.
But behind this rigid façade lay a man tragically eager to please. As kids we could always talk him into a double-scoop cone, if we could just get him away from Mom. As an adult, I learned that this tendency went much deeper.
Dad went to medical school because his parents told him to. Failing that, he accepted their second choice and became a mechanical engineer. In a rare moment of intimacy, on a father-son camping trip to the High Sierra, he confessed that his dream was to be a park ranger. I wonder what his life would have been if he'd had the courage to follow that ambition. Perhaps he would have found his voice leading nature hikes and campfire programs.
Dad never broke the habit of trying to please his parents, but he made sure that we didn't suffer the same fate. He applauded my high school theatricals and provided financial support for a creative college major. On my weekly calls home, he always made sure that I was writing, though he never inquired about the specifics.
True to his nature, he remained silent and stoic through my mother's seven-year battle with cancer, and continued so when he was diagnosed himself two years after her death. During Dad's final months, I bathed him, mopped up his bodily fluids, and listened for changes in his breathing. The only concern he voiced was for the future of his dog, an oversized Sheltie who watches as I write.
It was Dad's Lutheran pastor who put his silence into context. Older congregants, he said, had expressed a need for guidance as they considered death's approach. My father provided the model they were seeking. Church members who visited in his final weeks all returned with the same tale: Dad was quiet, uncomplaining, unafraid.
In the end, we didn't ask for a moment of silence at Dad's memorial service. Instead I shared a story about Saint Francis sending his brothers out to spread the Gospel and telling them, "If necessary, use words." When one of Dad's elderly neighbors caught my eye and smiled her appreciation, I knew we'd made the right choice.
Dad was a quiet man, but he renounced his parents' prejudices, encouraged his children's ambitions, overcame his own homophobia to welcome new family members, and remained a steady presence through his wife's long illness. If St. Francis is right, and our actions speak louder than our words, you might say the man never shut up.
---
Norman Allen is a playwright living in Washington, DC. His plays include In The Garden (Charles MacArthur Award), Nijinsky's Last Dance (Helen Hayes Award), and The House Halfway, to be produced at this summer's Source Theatre Festival in Washington, DC.
We welcome your original reflections, essays, videos, or news items for possible publication on the On Being Blog. Submit your entry through our First Person Outreach page.
I'm not unhappy about becoming old. I'm not unhappy about what must be. It makes me cry only when I see my friends go before me and life is emptied. I don't believe in an afterlife, but I still fully expect to see my brother again. And it's like a dream life. But, you know, there's something I'm finding out as I'm aging that I am in love with the world.

And I look right now, as we speak together, out my window in my studio and I see my trees and my beautiful, beautiful maples that are hundreds of years old, they're beautiful. And you see I can see how beautiful they are. I can take time to see how beautiful they are. It is a blessing to get old. It is a blessing to find the time to do the things, to read the books, to listen to the music.

You know, I don't think I'm rationalizing anything. I really don't. This is all inevitable and I have no control over it. "Bumble-ardy" was a combination of the deepest pain and the wondrous feeling of coming into my own and it took a long time. It took a very long time, but it's genuine. Unless I'm crazy. I could be crazy and you could be talking to a crazy person.
The Dismantling of Lives: Coming Through for Someone Else
by Trent Gilliss, senior editor
"It's a prime time of my life, and I basically gave it away."
Julie Winokur uprooted her husband Ed Kashi and two children from San Francisco, California to New Jersey to take care of Herbie, her 83-year-old father with dementia. This film is an intimate portrait of a family who is "doing the right thing" but are struggling with the demands of caregiving and managing daily lives of work and school.
You witness the love and the anguish of a multi-generational household making things work; it seems like the mental health of all, especially Julie, are in peril. The stakes are high, but so are the consequences if they chose a different course.
Although "The Sandwich Generation" primarily focuses on the voices of the caregivers, the most agonizing and heartbreaking part of the film comes at about the seven-minute mark. In this scene, a deconstruction crew is cleaning out Herbie's home that he's lived in for more than 40 years. Glass is crashing, boxes of his personal items are being heaved into a dumpster, and he's left standing in his garage holding an old set of golf clubs he doesn't want to let go. We never really get to know the man at the core of this picture. He's discussed, he's photographed, he's cared for, he even sings a little at the end, but he remains on the periphery in a sense. And this scene grabs the onlooker and shakes us.
Looking for an image that could capture the depth of this week's show on the "far shore of aging" resulted in this complicated portrait on the spectrum of caregiving from MediaStorm. But it also introduced me to an incredible series of photographs by Ed Kashi titled "Aging in America." Eight years later, it's more important now than ever.
An Image We Loved That Didn't Make the Cut
by Trent Gilliss, senior editor
Searching for a lead image for our show "The Far Shore of Aging" with Jane Gross, I happened upon this fabulous photograph titled "Late adventures at Arco de São Jorge." The dynamic nature of the composition of elderly people walking in the surf coupled with the saturated colors is exquisite. And the juxtaposition of a vibrant, healthy couple navigating the rocky shores with the need of a balancing stick illustrates their vitality and fragility all at once. Oh, and don't you just love that splash of red of the lady's bathing suit!
Nevertheless, I decided against using this photo because it was too "easy" for our purposes. This photo would've represented more of an idea rather than the grounded intimacy of an aging, fully sentient human being. Here, we're looking at their backs, but we never see their faces, which perhaps compels us to think of far-off ideas and themes. All quite lovely, but, as it relates the subject matter of Krista's conversation with Jane Gross, too abstract. 
I wanted the viewer to embrace the face and the eyes, the deep intimacy of a person who is not one of the "elderly" but an individual who remains vibrant and changing, that individual's relationship to the caregiver, and a sense of the caregiver's pain and love, frustration and anger. 
(photo: alex@Tlön/Flickr, CC BY-NC-ND 2.0)
(via beingvisual)
200 Plays
The Far Shore of Aging with Jane GrossOn Being
The Poignant Story of Caring for the Fragile
by Krista Tippett, host
Lately, I've become intensely aware of the way age is changing. Fifty doesn't mean what it once did, and neither does 90. There is a profound shift in our thinking about the span of our lives, with dramatic, practical implications. And like so much of the change in the world now, this is happening faster than we can process it in real time.
Associations and expectations about "youth," "middle age," and "old age" that held for generations have simply fallen away. Age has become a far more fluid thing, relative from life to life. This is fascinating.
And like all significant progress, this has an upside and a downside. Acting and feeling younger longer is a kind of affirmation of an American inclination to see ourselves as self-made and forever beating the odds. We celebrate the 70-year-old triathlete, the 80-year-old tennis player. I'm part of this too.
As I approached 50, I took up a serious yoga practice and can honestly say that I have never been stronger than I am now. But, in more reflective moments, I know that I also want to embrace the softness, the peace with imperfection, and the paradoxical possibility of gaining from loss that comes naturally in this time of life. I know that there is a fine line between denial and opening to age with wisdom and grace.
Jane Gross has thought about these things for years, as a human being and a journalist, and as creator of The New Old Age blog at The New York Times. This popular blog grew out of her experiences on the "far shore of caregiving," at the far reaches of her mother Estelle's old age. As Estelle began a steep but incremental decline after her mid-80s, she described the modern change of aging more darkly: "We live too long, and die too slowly."
Beyond the races we can still run, the vacations we can take, and the new careers we can begin, there is, as Jane Gross puts it, an in-between time that is new in human experience — a period that may span decades, she says bluntly, "between fine and dead."
This conversation is full of simple, hard truths stated clearly. It is an experience of how the naming of hard truths can in itself bring relief. The beginning of wisdom, after all, is facing reality. One statistically borne reality is that even our 21st-century bodies start to fail by our mid-80s, if cancer hasn't suddenly stopped them in what we now consider the prime of life of 50 or 60.
Jane Gross's story, and that of her mother, is a story of our time. After a long vigorous, independent life, and a thriving widowhood, "she was fine and then all of a sudden in a hundred small ways, none of which were going to kill her, not fine." It was a roller coaster ride of debilitation, illness, decline, and panic with no end in sight.
Here again, her honesty is refreshing. She did not have a close relationship with her mother. She did not, she confesses, "race to the loving caregiver's role with an open heart." Like many, many people, she at first only accepted that she was caught between a rock and a hard place. She could buckle up or bolt, and the latter was not acceptable. In the end, after much muddling and many mistakes she says, it yielded unexpected healing. It became an occasion for family repair.
Some of her most important pointers are also the simplest. The elderly, as she's experienced it, want to have conversations about this before their children are comfortable. Meet your parents there, she says. Talk, and listen, early. And this: every piece of this complex chapter of life doesn't need every sibling to play every role. Figure out what each of you is best at and forgive yourselves and each other for not rising equally to every challenge.
I'll close here as we close the show, with a passage from Jane Gross's book, A Bittersweet Season: Caring for Our Aging Parents — and Ourselves.
Her memoir is full of practical advice. It is a dispassionate look at an ordinary piece of life that, like death, we are reluctant to look full in the face. It is a chronicle of redemption that emerges in spite and because of muddle and mistakes. But isn't all of life really like that?
"I keep saying that this experience can become something other than desperate and bleak, if you let it. It really is a choice. We all know grown children who have bolted when the moment arrived. But imagining running away doesn't make you a bad person. I fantasized, usually in the hypnagogic space between sleeping and waking, facing another day of ignorance and exhaustion, about pointing the car west and driving, driving, driving. I'm glad that I didn't, because instead I learned what I was made of; I found my better self. I found my mother. I found my brother. But all of that came later."
Wisdom on Alzheimer's Disease Gained from Nuns
by Susan Leem, associate producer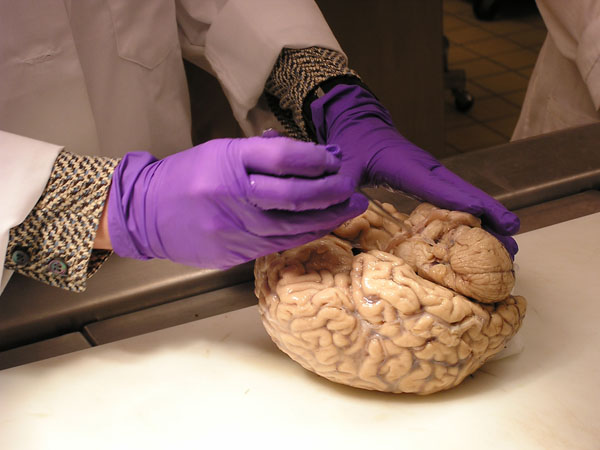 Dr. Karen Santa Cruz of the University of Minnesota examines one of the 670 brains in the Nun's Study, looking for signs of dementia. The brain pictured here is more than 75 years old and still looks healthy says Dr. Santa Cruz. (photo: Lorna Benson/MPR News)
The nuns of the School Sisters of Notre Dame made headlines in Time magazine a decade ago for making an unexpectedly profound contribution to how we understand Alzheimer's disease.
Looking for a research project, David Snowdon became interested in the convent after a graduate student, a former nun, told the young epidemiologist about a retired community of nuns living out their days in Mankato, Minnesota. These women turned out to be ideal for research into aging because of their similarities in lifestyle. Snowdon didn't know exactly what he was going to find among these nuns, but struck gold when finding their personal records in an old olive green file cabinet. The biographical essays they wrote as young women in their early 20s held clues to the way they aged over 50 years later.
What Snowdon found was a correlation between low grammatical complexity in their writing and low "idea density" among sisters who had Alzheimer's disease. An example of a low-scoring sample:
"My father, Mr. L.M. Hallacher, was born in the city of Ross, County Cork, Ireland, and is now a sheet-metal worker in Eau Claire."
On the other hand, a high-scoring essay looks more complex:
"My father is an all-around man of trades, but his principal occupation is carpentry, which trade he had already begun before his marriage with my mother."
These high-scoring writers avoided dementia in their later years and performed better on other cognitive tests. Later, Dr. Snowdon pursuaded the nuns to donate their brains to science. Among the participating nuns who died, none of the high-density ideas nuns' brains showed evidence of Alzheimer's disease, while it was physically present in all of those with low idea density.
Researchers at the University of Minnesota now carry this research forward, trying to figure out why some of the nuns' brains look diseased post-mortem, but before death, these women managed to live out their final days without dementia.
Another researcher in Canada has recently discovered that bilingual speakers can also stave off Alzheimer's by a few years more than monolingual speakers.
Could there be a protective quality to maintaining your linguistic skills? Or is it that these nuns have always had a bit extra reserve of cognitive ability to weather the ravages of aging? Thankfully, this research provides more insights into questions like these as this massive longitudinal study involving over 600 nuns continues.
Health is not a commodity. Risk factors are not disease. Aging is not an illness. To fix a problem is easy, to sit with another suffering is hard. Doing all we can is not the same as doing what we should. Quality is more than metrics. Patients cannot see outside their pain, we cannot see in, relationship is the only bridge between. Time is precious; we spend it on what we value. The most common condition we treat is unhappiness. And the greatest obstacle to treating a patient's unhappiness is our own. Nothing is more patient-centered than the process of change. Doctors expect too much from data and not enough from conversation. Community is a locus of healing, not the hospital or the clinic. The foundation of medicine is friendship, conversation and hope.
David Loxtercamp
, author of
A Measure of Days: The Journal of a Country Doctor
, as read in his
interview
with NPR's Liane Hansen.
(via trentgilliss)
As We Age, Do We Turn Our Backs on the Elderly?
by Trent Gilliss, senior editor
Last week I retweeted an article about the booming industry of cosmetic surgery in Saudi Arabia, and whether it's halal or haram. And then, last night, I watched a roast for the 76-year-old comedian Joan Rivers on Comedy Central. Almost all the comedians focused their acts on her many facial reconstructions and sundry plastic surgeries. Yes, the barbs were brutal, but it jogged my memory about Rabbi A.J. Heschel's words about our growing vanity and narcissism and how it separates us from others, from ourselves, and even from God.
As we focus increasingly on ourselves, who do we leave behind, abandon? Heschel reflects on this in his essay "To Grow in Wisdom," which was initially delivered at the 1961 White House Conference on Aging (yes, they still occur). It knocked me out in the first several paragraphs, talking about the idolatry of youth and the disregard for the elderly. His words couldn't have been more prescient, and personally challenging:
"I see the sick and the despised, the defeated and the bitter, the rejected and the lonely. I see them clustered together and alone, clinging to a hope for somebody's affection that does not come to pass. I hear them pray for the release that comes with death. I see them deprived and forgotten, masters yesterday, outcasts today.

What we owe the old is reverence, but all they ask for is consideration, attention, not to be discarded and forgotten. What they deserve is preference, yet we do not even grant them equality. One father finds it possible to sustain a dozen children, yet a dozen children find it impossible to sustain one father.

Perhaps this is the most distressing aspect of the situation. The care for the old is regarded as an act of charity rather than as a supreme privilege. In the never dying utterance of the Ten Commandments, the God of Israel did not proclaim: Honor Me, Revere Me. He proclaimed instead: Revere your father and your mother. There is no reverence for God without reverence for father and mother.

In Jewish tradition the honor for father and mother is a commandment, the perfect fulfillment of which surpasses the power of man. There is no limit to what one ought to do in carrying out this privilege of devotion. God is invisible, but my mother is His presence…."
Heschel's book of essays, The Insecurity of Freedom, contain many of these kinds of reflection. It's a wonderful introduction to his thought and poetic approach to life and faith. If you've been wanting to read him but were daunted by The Prophets — or even if you've never heard of him before — I highly recommend revisiting his relevant outlook on the society he saw developing before his very eyes.