Embracing the Beauty of Genetic Difference
Nancy Rosenbaum, associate producer
Former fashion photographer Rick Guidotti has been taking pictures of people with genetic differences for over a decade. His organization, Positive Exposure, celebrates "the spirit of difference" and "the joy that comes with self-acceptance." He's committed to changing how people with genetic conditions all over the world see themselves, and, in turn, how they're perceived within their communities.
Guidotti is adamant that his work isn't about illuminating inner beauty. "This is beauty," he insists. "This is the real deal. These kids are gorgeous, and you see the beauty there exists. We just haven't been allowed to see it."
Photographing people with albinism has been central to Guidotti's efforts with Positive Exposure. In recent years, he's photographed some of these young women and men in villages in Mali and Tanzania, where the social stigma can lead to ostracization and sometimes life-threatening consequences, and in South Africa at a school for the blind.
When we sat down at a conference in Minneapolis, I asked him to tell me the stories behind some of his photographs, which we've included in our narrated slideshow at the top of this post. You can also download the unedited interview (mp3, 29:21) to hear even more of these stories.
Most of us have probably harbored negative feelings about our physical appearance at some point in our lives. When these feelings lodge and fester, they deplete our spirits. I see Guidotti's images as a visual reminder to be kinder to ourselves and more generous and joyous in how we construe beauty in all its manifestations.
"The Color of Ideas"
Krista Tippett, host

Artist Kara Walker installs her work "My Complement, My Enemy, My Oppressor, My Love" at the Walker Art Center in Minneapolis, Minnesota. (photo: Cameron Wittig/Walker Art Center)
I've heard E. Ethelbert Miller's essays and short interviews on Weekend Edition Sunday and always learned something new. He has been at Howard University, first as an undergraduate, since it was a crucible of Black Power in the late 1960s. I've heard him observe political and cultural events — like the election of Barack Obama as president — through a fascinating lens, from that vantage point, and also from his vantage point as a poet, a "literary activist." And I wondered what would happen if I sat down with him for a whole hour to explore the nexus of the political, the artistic, and the spiritual in the dramatic trajectory of black history over the last half century — a trajectory he has both been shaped by and has shaped.
The result is an unpredictable, playful, and challenging program. For starters, he is not eager to engage in a head-on discussion of Obama and race — the discussion many in our culture have both longed for, and not found a way to have, throughout his candidacy and now his presidency. For E. Ethelbert Miller, Obama's election says interesting things about how white people in the U.S. have changed. He does not buy the language of a "post-racial society." Yet he sees that both Barack and Michele Obama have made a lasting impact on global cultural associations between blackness, elegance, excellence, and beauty. And in the long run, he seems to feel, that may be more than enough, for now.
We hear the trumpet of Miles Davis and the saxophone of John Coltrane as Miller guides us in an entertaining, if not linear, way through the evolution of what he calls "blackness" in the last half century. His words and the sounds of this music join the poetry of Lucille Clifton "won't you celebrate with me") and the prose of Buddhist novelist Charles Johnson and Muslim activist Malcolm X to evoke the eclectic range of influences that nourished the black consciousness that first emerged in the 1960s and 1970s. Our cultural memory has taken in some of these influences and forgotten much of the rest, though they have all continued to ferment in E. Ethelbert Miller's being and in the diverse universe he inhabits.
He likes to imagine a healing role for African-American Muslims, for example, in the global encounter between Islam and the West in this century. He also suggests that, in this globalized world, the noun/adjective "African American" is too small. His own heritage is West Indian, and the term African American in fact obscures the far-flung immigrant story inside the story of race in the U.S. alone. But in using the word "blackness" — which culturally might seem a reversal — E. Ethelbert Miller is talking about much more than the color of one's skin. He is talking about "the color of ideas."
Listen for yourself, and enjoy.
Also, I recommend reading Miller's "My Language, My Imagination." It's a beautiful essay based on a speech he delivered on the campus of Western Oregon University in 1998. It is a vivid, personal, concise, and energizing introduction to the turning points and inner dynamics of African-American life in our time. And it is terrific background for going on to read Miller's memoirs — especially his first, Fathering Words — and his poetry.
Beauty is not a luxury. It ennobles our hearts so we can see infinity within ourselves.
by Kate Moos, managing producer
The news that Great Britain formally apologized to the mathematician Alan Turing this week about bowled me over. Alan Turing cracked codes for the Allies during WWII, deciphering the Third Reich's Enigma Code, and, according to some historians, shortening the war considerably. If that were not achievement enough for one life, his broader work in mathematics anticipated the creation of artificial intelligence, computers, and all of the constructs of the information age.
But, in 1952, when he admitted his involvement in a consensual homosexual relationship, he was prosecuted for gross indecency and subjected to chemical castration. Turing killed himself at the age of 41, suffering the effects of his court-ordered, hormone-induced "treatment," by eating a poisoned apple.
British Prime Minister Gordon Brown this past week called the persecution of Alan Turing "appalling." It took 50 years and some high-pressure campaigning by the likes of the scientific anti-religionist Richard Dawkins for the acknowledgment to come.
Our program with mathematician Janna Levin entitled, "Mathematics, Purpose, and Truth," explores Turing's life and legacy as she wrote about it in her brilliant novel A Madman Dreams of Turing Machines, which also fictionalizes the mathematical world of ideas around the life of Kurt Gödel, another scientific genius whose life was tragic in completely different ways.
Levin's interview with Krista has also left me with one of my all-time favorite SOF aphorisms. "If we were quantum particles," Levin asserts at one point, "quantum physics would be completely intuitive." Her fictional take on the life and times of these two great mathematicians is very much worth exploring.
(photo: Alan Turing stands beside the Ferranti Mark 1 Console, the world's first commercially available general-purpose computer.)
Paring
Alda Balthrop-Lewis, Production Intern
Before I arrived here in snowy St. Paul, not very long ago, I was living in Venice, Italy, sharing a two-bedroom apartment in the old Castello neighborhood with a scientist of sperm whale sound and a landscape architect. I worked days at the Peggy Guggenheim Collection in Palazzo Venier Dei Leoni on the Grand Canal, cleaning the base below the Calder mobile, washing the windows, selling tickets, and guarding rooms in which hung paintings by Picasso, Braque, Mondrian, Severini, Miro, and Pollock. Doing a boring job in a beautiful place is one of the greatest opportunities for meditation I have had, and I spent many hours comparing Mondrian's The Sea to the ripples on the canal outside the wrought iron grated windows.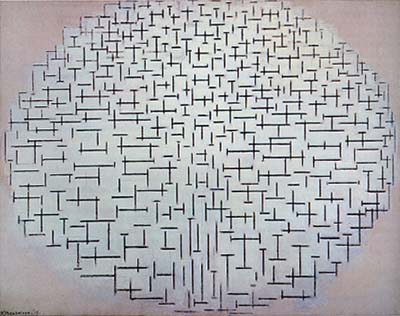 I became fascinated with a theme I saw in Mondrian's landscapes, Brancusi's birds, and Giacometti's human figures. Each of these artists purposefully spent years of his working life paring down, making an attempt to paint or sculpt the essence of a natural image, ever simplifying the visual language he used. They all believed, in some instances with a spiritual fervor, that it was possible to find and express essence.
When I was in high school, my best writing teacher came to me through Biology. She taught me to describe the beginnings of life in the "primordial soup" briefly, on one side of a piece of paper. This was a painful process of excision, of finding the fatty words lacking in meaning and cutting them until the essay became its leanest self. Poets use this practice too; they choose the briefest of all possible ways to spin the phrase. Annie Dillard's latest novel, The Maytrees, was originally a 1400-page manuscript, now just over 200.
Wise cutting makes for good writing and sculpture, yes, but since being in Venice I have come to see cutting away excess as a meaning-making practice too. Isn't this how ascetics craft their very lives? Wouldn't all our lives be more sustainable if we could, like the absract artists, pare away the metaphorical fat?
John O'Donohue's Landscape

Colleen Scheck, Producer
One of the exciting aspects of my job as a producer is the opportunities our web site opens up for multimedia content. As soon as we started producing this week's program, I wanted our audience to be able to see the Irish landscape John O'Donohue described in his conversation with Krista. I desperately wanted to see it. I'm of Irish ancestry (75%!, I'd proudly tell people on St. Patrick's Day as a kid, dressed in my Kelly green shirt with a "Kiss me, I'm Irish" button), and someday I hope to make it to that emerald isle.
When I asked John O'Donohue's business manager, Linda, if she had any photos of John in Ireland, she graciously offered to put out a request to friends and family. Within days I'd received over a dozen photos of both the Connemara region where John most recently lived, and some of Fanore, a town in County Clare where John attended elementary school, and where he is now buried. Will O'Leary, a veteran Washington Post staff photographer and close friend of John's, shared some of his photos. His wife, NPR reporter Jacki Lyden, was also a close friend of John's (she recently offered a remembrance of him on NPR's All Things Considered). Another longtime friend and professional photographer, Nutan, shared photos he took of John in 2005.
In producing the audio slideshow, I was struck with how well the photos illustrated O'Donohue's language in his poem "Beannacht" — a word I've heard translated as both "blessing" and "passage." It's about finding comfort in loss, and I consciously tried to match the photos to the poem's tone, mood, and pace. I learned that John wrote this poem for his mother, Josie, at the time of his father's death. According to Linda, his father "…was a farmer and a gifted builder of dry stone walls — a dying art still much revered — from whom, John's brother Pat said at his funeral, John learned the art of fitting words delicately and fittingly together."