We have the responsibility to be kind to one another, and that responsibility extends to celebrities, too. We're the ones who placed them on their teetering pedestals. Justin didn't ascend his without our help. So when they tumble off, the fact that we cheer and sneer is awful, hypocritical, and deeply, sometimes savagely unkind.

As for people of faith, we should be rushing to his aid in whatever way we can, which for the vast majority of us is prayer. Pray for Justin. Pray for Justin's friends. Pray for God to send Justin his Anam Cara - soul friends, the rarest and most valuable and necessary kind for any of us to have as we navigate our lives on this side of the veil.

Don't shame Justin. Instead, remind him of who he is: A beloved child of the Most High God whose love for Justin is the same as it was last week and last year and every moment since he took shape and form in his mother's womb. There is nothing Justin can do to make God love him any less and there is nothing Justin can do to make God love him any more.

Grace isn't a get-out-of-jail-free card, but it covers not just a multitude of sins - it covers them all. Even if you're a celebrity. Even if you act like an entitled, spoiled brat. Even if you get drunk and pee in mop buckets, or swear like a sailor at the cop who's arresting you. Even if you get behind the wheel of a car drunk or stoned and you drive it and you hit someone and you kill them. Grace is still there. Grace is the final word and we should remind Justin of that.
From our chief of content, trentgilliss:
Yeah, that's Speech from Arrested Development dining at the table next to us.
I'm a snowboarder—that's probably my biggest hobby. I'm also into this really interesting podcast 'On Being.' A journalist [Krista Tippett] interviews everybody from a man who changed his life through his relationship with animals to this guy who studies creativity in the brain. It's fascinating.
Guess what famous actress gave our public radio program a shout-out in the August issue of InStyle magazine?
That's right. It's Jessica Biel. Very cool.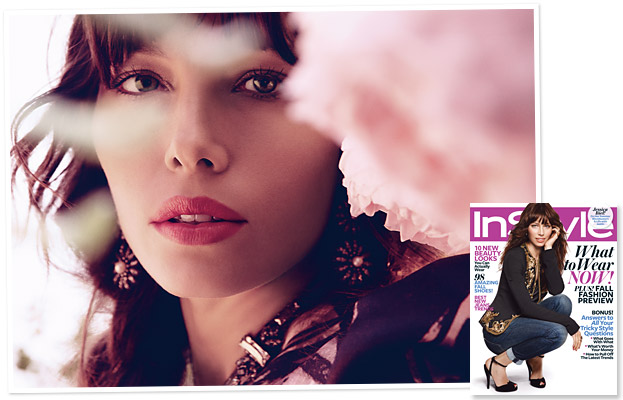 He had become a journalist who didn't report, a scholar with no time for extended reading, and a global prophet who wasn't sure what ideas he wanted to spread. In the midst of his triumph, he was already at risk.
—Edward Tenner, on Fareed Zakaria in The Atlantic
I think Mr. Tenner points at something here that transcends journalistic celebrity and personal brand. It's depth. It's making the time to find it and discover something rounder.
He's getting at how we all, even the most modest person operating in this contemporary world, are competing within ourselves. Our work and careers, our colleagues and our families, our leisure time and our extracurricular activities are starved for directed attention, for focused time that leads to something that creates connection at the root level.
We need to do a show on this. Who could we speak to that would take us deeper?
~Trent Gilliss, senior editor
Jessica Biel Follows Us!
by Trent Gilliss, senior editor
What does Justin Timberlake and On Being have in common? Jessica Biel follows both of us on Twitter. And it gets better. She's been on Twitter since May 7th and follows four people — one being her fiance.
Well, how did us culture hounds discover this, you ask? Well, Ely, Minnesota's (at least she was born there…) very own Jessica Biel retweeted us:
"RT This week's show ("The Last Quiet Places") is an escapist's dream, an absolutely immersive experience: http://bit.ly/KOssdO #pubmedia"
Even better, she offers up not only this pleasing endorsement:
"Check out NPR's On Being podcast. Endlessly interesting."
And then corrects herself and gives our distributor some love too: 
"Oops! I meant APM's On Being podcast. Still getting used to this twitter thing…"
A needed reprieve after a grueling week of production that put smiles on all our faces. Yes, we get starstruck too!
The only thing that matters is how I feel about myself, my personal integrity, and my relationship with my Creator. Of course, it's wonderful to be held in esteem and fond regard by family, friends, and community, but a central part of my spiritual practice is letting go of otheration. And casting one's lot with the public is dangerous and self-destructive, and I value myself too much to do that.
—Ashley Judd, from her commentary for The Daily Beast's Women in the World blog
No wonder this piece has been taking the media world by storm. It's a powerful commentary, one that lets no one off the hook and reminds us that we're all culpable of this type of thinking. I'm a father of two boys, and I've got some real work to do.
~Trent Gilliss, senior editor
Katy Perry Enjoys God
by Trent Gilliss, senior editor
Singer and pop icon Katy Perry somehow continues to tap her conservative (Pentecostal?) Christian upbringing to cultivate her celebrity persona, non?
(terrysdiary, via beingvisual)
Viral Antisemitism? The Enduring Challenge of "The Other"
by Krista Tippett, host

The Rykestrasse synagogue in East Berlin survived "Kristallnacht" of 1938 and was the only functioning synagogue in former East Germany. (photo: Sean Gallup/Getty Images)
As we prepare to leave for Israel, I'm noting the strange and disturbing global outbreak of celebrity antisemitism: Charlie Sheen's rant at his former producer; John Galliano's rants at perfect strangers; and now a top boy band in Japan makes an appearance in Nazi garb.
These kinds of images are at once familiar and bizarre. For Jews, admittedly, "bizarre" may be too detached a word for something that is directly threatening and frightening. So it is up to the rest of us to consider what I mean in using that word to point at the way in which Judaism is a favored face for a persistent, shape-shifting specter in the human psyche: the global "other" — strange, difficult, despised, and intimidating at once. And "viral" is a good way to describe its incurable yet off-and-on interdependence with the human condition.
I first became aware of this in former East Germany, where I spent time in the 1980s as a journalist. Antisemitism was a strong current just beneath the surface. But there were virtually no Jews left in that part of Germany. There hadn't been for decades. The specific nature of German grievances against Jews was obviously fictive. Laid bare was an amorphous fear of the abstract "other," of difference itself.
Writing about this, naming it, feels like perilous territory — but territory we are morally called to walk.
Yes, the actor who is playing Elizabeth Gilbert in the Brad-Pitt directed Eat, Pray, Love is now attending temple. Hindu, that is: "I'm definitely a practicing Hindu."
Photo: Roberts takes holy water from a Hindu priest on the set of the film "Eat, Pray, Love" in Ubud, Bali. (Firdia Lisnawati)
So You're Krista Tippett!?
Mitch Hanley, Senior Producer
Krista Tippett meets Maria Shriver. Krista is in Long Beach, California this week to participate in Shriver's 2008 Women's Conference. On Wednesday afternoon, Krista will be moderating a discussion called, "Got Faith? Your Life Has Meaning: Live it. Love it. Pass it On," which includes Sister Joan Chittister, Ingrid Mattson, Timothy Shriver, and Sylvia Boorstein (in photo, far right).