850

Plays

Magnum Mysterium

Chanticleer
Download External Audio
"Magnum Mysterium" by Chanticleer
by Trent Gilliss, senior editor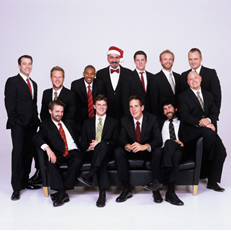 Fred Child and the producers of Performance Today have created a substantial repository of free music from the live concerts and in-studio performances they broadcast on public radio. This year, three ensembles — Calmus, New York Polyphony, and Chanticleer — are offering free downloads of some of these performances.
I'll post one track from each group during the course of the day, but I recommend you head over to PT's website and download them for yourself.
Q:Do you know the name of the choir and the director?
themozartproject
Tuesday Evening Melody: Allegri's "Miserere Mei, Deus"
by Lisa Moore, guest contributor
This song affirms that humans create beauty. When that woman's voice rises above the rest and spirals around, it is pure and intoxicating.
Miserere Mei was written by Italian composer Gregorio Allegri in the late 1630s. As legend has it, this piece of music was protected from being transcribed or played outside of the Sistine Chapel for the Tenebrae ("darkness" or "shadows" in Latin) service. Doing so was punishable by excommunication.
The story goes that, after more than a century, young Mozart heard the work in 1770 and rewrote it from memory when he returned home. His transcription ended up in the hands of an Englishman who published it in 1771. Rather than being excommunicated, Mozart was called to Rome and praised by the pope for his musical genius. The ban was lifted, and now it is one of the most common works to be performed by a cappella choirs.
Why would this song ever have been banned in the first place? Because it was so very beautiful. Perhaps people would hear this music and have a spiritual experience. That experience, of course, could then be had anywhere they heard that music and open a personal pathway to a relationship with God. The Church wanted to be sure that that type of communication could only occur with its guidance and control. There are other examples of music being avoided because of the belief that it insinuated evil, like the tritone.
Other composers also transcribed it, and there is quite the dispute about who got it right and whose version is the best. I first heard a recording by the Dale Warland Singers, so I think I'm stuck with my first love, but there are many recordings — including the gorgeous version above performed by The Sixteen — both with adult and children's choirs.
As interesting as all of this is, I'm not trying to make any big statement. I just want to share this amazing music that deeply touches my soul, no matter what sort of mood I am in.
---
Lisa Moore is a medical student at Loyola University in Chicago. She attempts to maintain her identity as more than somebody who studies through yoga, creative cooking, reading, and writing.
We welcome your reflections, essays, videos, or news items for possible publication on the Being Blog. Submit your entry and contribute a deeper understanding of the world around us.
Mike Wallace Interviews Music Genius Franz Liszt (video)
by Trent Gilliss, senior editor
It's been some time since we've posted a Friday video snack. So how about ten minutes of the comedic genius of Victor Borge with one of the toughest journalists in the business, Mike Wallace.
(A good, ol-fashioned doff of the cap to Performance Today.)
Bach at One in St. Paul's Chapel
by Trent Gilliss, senior editor
The Trinity Choir and Baroque Orchestra rehearse in St. Paul's chapel.
We're in New York tonight preparing for tonight's live event with Hendrik Hertzberg, Serene Jones, and Pankaj Mishra. The subject? Reflecting on 9/11 and who we want to become as a people and a society as we think forward about the next decade. The location?
St. Paul's Chapel near Ground Zero, a centering place of refuge and aid for rescue workers and volunteers.
Performing a sound check, we got a great surprise: the Trinity Choir and the Trinity Baroque Orchestra rehearsing for their daily Bach at One concert. So, this week's Tuesday evening melody is a bit rawer, an on-the-ground capture of one of the many other events taking place to commemorate the attacks of 9/11. Bach never sounded so right.
Classical Flash Mob Stuns Commuters
~Susan Leem, associate producer
Jesper Nordin conducts the Sjællands Symfoniorkester (Copenhagen Philharmonic) in a flash mob at Copenhagen Central Station playing Ravel's Boléro. This kind of performance art reminds us that, when you least expect it, you can become submerged in beauty within moments: anywhere, by anyone (in street clothes, hauling a bassoon), and it can disappear just as quickly.
1,489 Plays
OptimistZoë Keating
Download External Audio
Tuesday Evening Melody: "Optimist" by Zoe Keating
by Trent Gilliss, senior editor
This evening's instrumental comes to you courtesy of Jad Abrumad via Radiolab's blog:
"…on our last tour (Symmetry), Zoe would often play this piece, Optimist, which she wrote for her son Alex when he was negative four months old. Every time, the audience fell into a trance. Those are the moments from the tour I really remember, getting to sit quietly on stage and watch the audience watch Zoe."
It's hypnotizing and makes for a nice break in the day.
Reich's piece brings back some searing memories, with (for me) an emotional intensity that had dimmed over the last 10 years. His work is a reflection of the chaos and horror of that day, and of the struggle to understand what happened. In that light, using that photo feels, to me, appropriate. I don't fully appreciate the dark smudging and streaking of the image (the NY sky was a bright clear blue that day)…but this feels like a quibble. The events of that day were ghastly, abhorrent. But I appreciate the way Reich's piece brings me face-to-face with what happened, and with my own visceral reaction.
— Fred Child, host of Performance Today
The classical music aficionado and public radio host weighed in on his show's Facebook page with a brief perspective on the new cover art for the Pulitzer Prize-winning composer Steve Reich's latest work, WTC 9/11, from Nonesuch Records. Released this week, the gritty adaptation of Masatomo Kuriya's famous photo showing the second plane moments before plunging into the south tower has stirred up quite visceral reactions among people from all walks of life.
But, what about the music itself and the fact that the cover art is meant to support or tease out a central element of the music it sheaths? Well, Fred has been "listening to the piece obsessively this past week" and he'll be writing a lengthier reflection for us in the coming weeks. As a fan of Kronos Quartet, I, for one, can't wait to read his interpretation of the piece and how the image fits in.
~Trent Gilliss, senior editor
279 Plays
Goldberg Variations, Aria Da Capo (1981)Glenn Gould
Download External Audio
Tuesday Evening Melody: "Aria da Capo" from Glenn Gould 1981 Goldberg Variations
by Nancy Rosenbaum, producer
This week's Tuesday evening melody is inspired by a listener question's about last week's show. On the heels of hearing "Autism and Humanity," Chase Fairfax posted this comment on our blog:
"I wonder what the orchestra music was that punctuated this story from time to time."
We think Chase is referring to Glenn Gould's 1981 version of the "Aria da Capo" of Bach's Goldberg Variations.
Some of Gould's biographers have speculated that he may have had Asperger's syndrome. Gould was sensitive to noise and temperature; he hated the sound of clapping and wore a hat, coat, and gloves, even in warm weather. He was also known for rocking and humming when he played. He stopped giving public concerts at the age of 32.
Gould preferred his 1981 rendition rather than his earlier recording from 1955. According to music critic Tim Page who interviewed Gould about the two versions, the 1981 recording "has a certain sadness and sense of reflectiveness… an autumnal quality." As it turns out, Gould was in the autumn of his own life as these later recordings were being produced; he died of a stroke at the age of 50, just before the 1981 recording was released.
If you want to compare the two versions, check out the show's playlist for the 1955 version. Which one do you prefer?
Photo courtesy of Library and Archives Canada.
The Golden Tones of Hélène Grimaud's Existence
by Trent Gilliss, senior editor
The French pianist Hélène Grimaud describes herself as an agitated and unpredictable child who found her salvation in music. And, now, as an adult, it's wolf conservation and their howling as "one of the most beautiful sounds in nature."
This interview with Alexis Bloom for Sound Tracks is delightfully produced and touches on a number of interesting other subjects in Grimaud's life, including her synesthesia and the golden tones of Liszt's sonata.
And, if, like me, you'd like to hear what Liszt's Sonata in B minor, what she calls "a monumental quest," sounds like, take four minutes and watch Grimaud perform this excerpt at Steinway Hall in New York. It's pretty magical.
(Thanks nhpublictv!)