The Hunger Games: Reality TV Not Lost on Our Youth
by Steven Martin, guest contributor
Fans give the three-fingered salute of District 12. The gesture is one of admiration, meaning thanks or goodbye to one's beloved. (photo: Doug Kline / © 2012 PopCultureGeek.com)
I was certain I was going to hate it. All of my four kids have been fans of the series of books by Suzanne Collins since before they were cool; therefore when the movie was announced, we all knew the midnight screening on the night of release was a must-do.
But in the run-up to last night's trip to the IMAX theater, the reviews I read and heard helped confirm my feeling that this would be a disgusting movie: violent, gratuitous in every way, repulsive to my social conscience.
I was wrong. Very, very wrong.
I tend to approach these cultural phenomena with a concern that my comfort level will be jolted. What I should be concerned about is what these phenomena say about our culture, and in the case of The Hunger Games, what it says about the generation that elevated the story to its current status. With an eye to the latter, I drove home early this morning with a deep satisfaction that my kids were smarter than I was at their age, and that their generation understands something mine did not.
First: yes, the movie is violent, and disturbingly so. The story is one about a future world in which a wealthy ruling class dominates a world that it is linked to, but separate from, itself through overwhelming police and military power, and entertainment that both enthralls and intimidates the underclasses. The focus of the story is an annual gladiatorial ritual in which representatives from the "districts" under domination give up children to a tournament of slaughter and death. Yes, this movie is based around images of children killing each other.
It is a valid question to ask: why must we tell stories that constantly elevate the level of violence necessary to grab our attention? Why is it now necessary to portray children killing other children, and children dying by each others' hands? This is indeed an important question for our society to wrestle with. But more importantly, we should direct our moralizing to the question the film itself seeks to ask: why are we satisfied to be part of a society that finds it necessary to feed upon its young?
Viral successes like The Hunger Games reach mass audiences because they strike a nerve. The audience for the books and the film, the "millennial generation," is not lost on the message. Our society is held together by a craving for violence. What is, say, middle-school football, after all?
We should ask: is it tolerable for us to send our young boys into a game that breaks legs, destroys knees, causes concussions, and otherwise changes the course of life forever? Of course it is! Not only does the game bring our community together, provide economic opportunities, but for the lucky few, college scholarships and professional opportunities. For the players, they are willing to risk limb and even life for a lottery-styled shot at fame and fortune. For the audience, we are willing to cheer when the fallen player limps off the field, or worse, is carried off to the emergency room, sighing a concern or uttering a prayer for the well-being of the child who may suffer permanently in the name of our entertainment.
The Hunger Games causes us to consider other forms of this structural violence. Not to only pick on the venerable institution of football, the film's prevailing metaphor can be applied to all kinds of American institutions of empire: soldiers in Iraq or Afghanistan, Treyvon Martin, state-sponsored gambling (the lottery), Wall Street, and so on. Face it: our society is one that eats its young. Through its horrific portrayals of a society that dominates via a tournament in which children kill children, The Hunger Games might well shock us into seeing the way we ourselves do it.
After the movie, my kids wanted to know my reaction. Did I just see it as yet another violent kid-pic? "No," I said, "I didn't expect to come here and see a movie about the young Israeli soldiers sent to occupy the West Bank."
In return I asked if, when they read the books, they saw them as overtly political. "Yes," my fourteen- and seventeen-year-old kids replied. And while they discussed on the way home the ways the movie changed story details of the books, I went to bed at 3:15am knowing that the major theme was not lost on them.
It gives me hope.
---
Steven D. Martin is a documentary filmmaker, photographer, and activist. He currently serves as a founder and executive director of the New Evangelical Partnership for the Common Good. You can read more of his thoughts at the Uncommon Voices.
We welcome your reflections, essays, videos, or news items for possible publication on the Being Blog. Submit your entry and contribute a deeper understanding of the world around us.
435 Plays
For Love and the Game, A Star Shines in DelawareFrank Deford
Download External Audio
A Star to Watch During March Madness Who Models the Love of Family and Basketball
by Trent Gilliss, senior editor
With March Madness upon us, stories of high-flying success and triumph through teamwork will abound for men's basketball. But the women's game, and its players too, often get overlooked. Leave it to Frank Deford to fill that gap with this NPR commentary about Elena Delle Donne, one of the NCAA's premiere players.
After two days, Delle Donne left the country's top women's program at the University of Connecticut to return home to Delaware. The reason? She missed what was most important to her: her family, namely her sister Lizzie who was born without sight and without hearing and has cerebral palsy. But, as Deford points out, "…for Elena, it was not a matter of leaving anywhere. No, it was only a matter of wanting to be somewhere, with someone where she thought she was more valuable, where she mattered more in life and love."
These are the stories that swell people's hearts. Not because of the pain, but because many of us have faced a scenario in some ways similar to Elena Delle Donne's. We've all had to make choices that take us away from our home or the ones we love, whether for work or military service or schooling. The 6'5" All-American did what we aspire to do — to prioritize what's most important to us and succeed while doing what's right.
This is really magical. For a 42-year-old former wrestler growing up in a landlocked state and now producing a public radio program (sitting in a cube in front of a screen most days), I admire how he's been able to meld his family life with his professional life — and do it outdoors. And that he talks about how it grounds him is refreshing.

What an amazing way to raise a family. Can you imagine?
(via trentgilliss)
This is storytelling at its finest and its darkest, but Auslander's wry sense of humor and delivery give the heaviness of the situation a light touch. For those of you with delicate sensibility about the Holocaust or profane language, be forewarned. He does swear a few times and is brutally honest about his visit to a concentration camp in Germany. His ending is worth it and his point all the more salient because of this humorous approach. 
Some people have a way of bringing laughter to deep, painful sorrow - but not in a way that ignores or diminishes the reality of that sorrow. It's like some people have this ability to see the microscopic punchlines and jokes even in the darkest of places. Writer Shalom Auslander has this ability. Here, he tells a live story with The Moth in NYC about his reluctant trip to a WWII death camp. And if you like this, you can hear more stories from him on This American Life, read more stories in his (amazing) books & articles, or listen to him talk with Terry.
~reblogged by Trent Gilliss, senior editor
Making Room for Both Traditions of Christmas and Hanukkah
by Meg Smith, guest contributor
Although I was born on Christmas, I feel like I'm slightly part Hanukkah now. Each year since I remarried — an event which brought two Jewish stepchildren into my life — I have anticipated the Festival of Lights with almost as much excitement as my hybrid celebration of the Winter Solstice/Yule and Christmas.
My stepchildren are actually half-Hanukkah and half-Christmas; their mother is Jewish, their father is not. Their parents long ago agreed the children would be raised Jewish, so they are attending the several years of Hebrew school that prepare them to become a bar and bat mitzvah. Having grown up with Christian and Jewish extended families, however, they have honored their heritage from both sides by celebrating Hanukkah and Christmas from the time they were born. As each year draws to a close, they look forward to lighting Hanukkah candles as well as decorating the Christmas tree with their doting, out-of-town Presbyterian grandparents.
Light Painting the Mines of North Wales
by Trent Gilliss, senior editor
If you're looking for a brief respite between Thanksgiving meals or a brief interlude to the NFL triple play, check out this short film by Andrew Telling and Owen Richards. They shadow photographer Robin Friend as he traverses the foothills of North Wales and descends into an abandoned Victorian mine at Cwmorthin to do a bit of light painting for his Slaughterhouse series:
"Although my mind kept wandering and playing tricks, it would always return to the absence of the men that used to work here. Their presence was palpable; this was their mine and I was trespassing. Each cathedral-sized cavern would have been leased and worked by one family. Grandfathers, fathers, sons, uncles, and nephews would have worked side-by-side, day in day out. These dark passages, steep crevasses, and sheer drops would have been their livelihood. This was their world. They would have spent the majority of their lives down here in the dark with nothing but a candle to illuminate the slate and their spirits."
(h/t trishutchinson)
A River Water Blessing
by Michelle Johnson, guest contributor
Matt and Joy Scheidt were raised in the church, but in adulthood they've come to assimilate elements of many other spiritual traditions into their lives. When they wanted to welcome their infant son into the world, they drew on those traditions to create a water blessing and invited friends and family to a tributary of the Dan River in North Carolina.
"No matter which culture you come from in the world," Matt says, "there's something innately essential to the value of ritual, however you might conduct that. I was raised Roman Catholic, and I was very heavily invested in serving the church," he continues. "I guess I kind of wandered. I don't ascribe to one fixed belief system. I'd call myself an 'ecumenical humanist,'" he says with a laugh.
"I can't call myself an ecumenical humanist," says Joy, who grew up Episcopalian. "I think that's too smart for me. I would say that I try to experience as much of the divine world in my life and the lives of others, guided by something innate that came to me when I was young, when I was born. I believe that we all inherently know what we are. There's something true in us, and, if we're in line with that, we're really kind of hitting on life's fullest potential."
---
Michelle Johnson is an audio journalist living in Winston-Salem, North Carolina. This audio slideshow is part of "Sacred Rivers," a multimedia documentary project under development that explores river rituals as a lens through which to see America's changing cultural landscape. You can view more of her work at the Yadkin River Story.
We welcome your reflections, essays, videos, or news items for possible publication on the Being Blog. Submit your entry and contribute a deeper understanding of the world around us.
The Nameless, Faceless 1,027 Palestinian Prisoners and One Named Israeli Soldier
by Trent Gilliss, senior editor
On the surface, it seems like the Palestinians and Hamas won a major victory in today's exchange of prisoners. Gilad Shalit, one Israeli soldier, in exchange for more than a thousand Palestinians. The numbers are theirs to claim. How could Palestinians not be declared the victors?
With all this media coverage, I really only know one name. The general public truly only knows one name. One face. One set of parents. One human story of drama and pain and sacrifice. I know Gilad Shalit. He's my son and my brother and my friend. He's the child I would sit out in the rain and the blazing sun to protect and bring home. I ache for his family and his country. He's human, he's real, he's flesh and blood.
With the Palestinian prisoners, I don't know the name of one person. We don't know the name of one person. No headlines in the papers or blogs exclusively devoted to the single surname of a Palestinian prisoner returned to her family. I know only numbers and politics and negotiators. I don't know the woman above. We don't know her. The story of a daughter and a sister and a mother and a wife. We don't identify with her because she has remained faceless, nameless, lost. How long has she spent inside an Israeli prison? How long has her family begged their government to make a deal for an exchange? She goes unnoticed and unnamed by all of us.
Even the description of the photojournalist doesn't identify her but names one man:
"A Palestinian prisoner hugs relatives after arriving in Mukata following her release on October 18, 2011 in Ramallah, West Bank. Israeli Defense Forces soldier Gilad Shalit was freed after being held captive for five years in Gaza by Hamas militants, in a deal which saw Israel releasing more than 1,000 Palestinian prisoners."
This is the tragedy of the circumstances. When the dust settles and history remains our only chronicler, we will remember the name of Gilad Shalit — a young man who spent five years in Palestinian cell — but not the name of this one Palestinian woman. And we will remember that the Palestinians received 1,027 people in return. Numbers get confused in our memories, but the story and image of one individual, one life worth retrieving, will remain with us forever.
But, now at least, I know her face. We see the love of a family and the pain of return. And, even though it's not the equivalent, it's a beginning. The Palestinian leadership would do well to remember this, and so should the media, including us.
Photo by Ilia Yefimovich/Getty Images
The Moon Cake That Will Never Be Eaten
by Melody Ng, Public Insight Journalism analyst
Grandma May Ng holds her great-grandson Penuel. (photo: Melody Ng)
I don't know that I have ever paid much attention to the
legend behind the Moon Festival, but I sure love moon cakes. I haven't bought them in years, because my grandmother always sends me a box of my favorite — lotus seed paste (a thousand times yummier than the usual red bean!) with one egg yolk per cake — from a good bakery in Los Angeles.
Last September, she gave me my box in person because I was in LA for my cousin's wedding and spent a few days with her. I brought the moon cakes back to Minnesota, ate one right away, and gobbled up the second during the Moon Festival. The other two are still in my refrigerator. I haven't been able to eat them.
My grandmother died last October, at the age of 96, just a couple weeks after the Moon Festival. Those two moon cakes are the last I'll ever have from her — from her thoughtfulness and generosity. Seeing them each time I open the egg compartment where I stashed them makes me happy.
My husband says it'd be terrible to my grandmother to let them go bad. It's true. She reused paper towels and never wasted food (and moon cakes are quite the luxury at $33 for a box of four). But I'm not sure moon cakes can go bad. In the past, I've kept them to savor over many months, and the ones my grandmother gave me a year ago still look just fine. That's not a quality I'd want in most of the food I consume, but, with moon cakes — especially my two remaining moon cakes — I guess shelf-life longevity is just fine.
I'll break out one to share with my two- and four-year-old tonight. They can recall memories of their Bak-Po, I'll tell them some new stories, and we'll talk about how she loved us so much that she's providing us moon cakes, even when she's no longer here with us.
And just in case the kids want more moon cakes, I'll stop by the store on my way home today to get a new box before they're gone for the year. Because my last moon cake's staying in the fridge.
---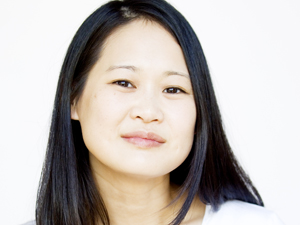 Melody Ng lives in Minneapolis, Minnesota and is an analyst for APM's Public Insight Network.
We welcome your reflections, essays, videos, or news items for possible publication on the Being Blog. Submit your entry through our First Person Outreach page.
Grieving and Remembering Family Members of 9/11 Victims at the South Pool
by Trent Gilliss, senior editor
A moving site in New York City today as family members of the victims of the 9/11 terrorist attacks visit the South Pool of the 9/11 Memorial during tenth anniversary ceremonies.
(photo: Todd Heisler-Pool/Getty Images)