The Moon Cake That Will Never Be Eaten
by Melody Ng, Public Insight Journalism analyst
Grandma May Ng holds her great-grandson Penuel. (photo: Melody Ng)
I don't know that I have ever paid much attention to the
legend behind the Moon Festival, but I sure love moon cakes. I haven't bought them in years, because my grandmother always sends me a box of my favorite — lotus seed paste (a thousand times yummier than the usual red bean!) with one egg yolk per cake — from a good bakery in Los Angeles.
Last September, she gave me my box in person because I was in LA for my cousin's wedding and spent a few days with her. I brought the moon cakes back to Minnesota, ate one right away, and gobbled up the second during the Moon Festival. The other two are still in my refrigerator. I haven't been able to eat them.
My grandmother died last October, at the age of 96, just a couple weeks after the Moon Festival. Those two moon cakes are the last I'll ever have from her — from her thoughtfulness and generosity. Seeing them each time I open the egg compartment where I stashed them makes me happy.
My husband says it'd be terrible to my grandmother to let them go bad. It's true. She reused paper towels and never wasted food (and moon cakes are quite the luxury at $33 for a box of four). But I'm not sure moon cakes can go bad. In the past, I've kept them to savor over many months, and the ones my grandmother gave me a year ago still look just fine. That's not a quality I'd want in most of the food I consume, but, with moon cakes — especially my two remaining moon cakes — I guess shelf-life longevity is just fine.
I'll break out one to share with my two- and four-year-old tonight. They can recall memories of their Bak-Po, I'll tell them some new stories, and we'll talk about how she loved us so much that she's providing us moon cakes, even when she's no longer here with us.
And just in case the kids want more moon cakes, I'll stop by the store on my way home today to get a new box before they're gone for the year. Because my last moon cake's staying in the fridge.
---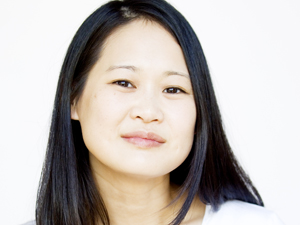 Melody Ng lives in Minneapolis, Minnesota and is an analyst for APM's Public Insight Network.
We welcome your reflections, essays, videos, or news items for possible publication on the Being Blog. Submit your entry through our First Person Outreach page.
I would definitely say that Creole is a really good example of what American is, because it shows how all these different things came together, and after a couple hundred years, what came out of it. It's no longer African, it's no longer French, it ain't no longer Acadian, it ain't no longer Spanish. It's a culture of its own.
What Heritage Lies Dormant Within You?
Trent Gilliss, senior editor
"There's satisfaction in the job we do, but, at least for Penny and I, we get to work with our kids. Working with family."
—Addison Chase, patriarch of Chase Farm
A confession. We're longing to illustrate a narrative that's flowing beneath the surface. The river in the ocean that's shrouded by the billowing sail but plays its vital role in carrying the ship to a new destination, a new shore.
For the most part, sustainability and climate change reports carry a bit of doom and gloom in their tone. The guests on our program embrace that reality, but they also bear out that the human spirit can never be vanquished. And with this "brightening on the path," as Ellen Davis puts it, hope is renewed as we rescue what we've lost and ways of living that lie dormant within us.
The two films included here are part of eight vignettes called Meet Your Farmer. Put forward by the Maine Farmland Trust, an organization that works to preserve farm land in the state, the films tell the stories of — and share the perspectives of — eight family farmers who echo sentiments harbored deep within the core of most of us:
"I think people want to be farmers. I think everybody really wants to be a farmer. I think (laughing). I think they do, deep down inside. Everybody wants to be a farmer."
—Aaron Bell, Tide Mill Farm
They share our dreams and clarify perhaps a small piece of the romantic longing inside each one of us, at least to some degree — to live differently, to be more than we have become. For me, it's the notion of being able to work alongside my two boys far into my old age. Never having to leave their sides. To know them deeply, intimately. And for them to know me and their beautiful mother in the same way. The Chase and Bell families are passing down not only a work ethic and a set of values, but a heritage worthy of preserving:
"Children that grow up on farms, near farms, or working on farms — that know how to nurture life, whether it be a bed of carrots or a mother cow that's having a tough delivery — and know how to even take a life, that know how to put a cow out of its misery, that know how to butcher a pig, that know how to do that in a humane way and understand and respect the importance of it. … To know that importance and that meaning. They're going to know the difference between right and wrong. They're going to be more compassionate."
I'm hoping these films prompt you to think about your relationships — to the land, to your family, to your neighbors, to our collective heritage, to your faith — and then distill your ideas into words about what this means for you.
It could be a place — a prairie night sky or an urban garden. It could be an interaction with a neighbor or a local farmer — something that makes you contemplate the deeper meanings of possession of land and its care. The result: a collaboration between us and printmaker Annie Bissett to weave your narratives into a collective narrative through text and images. Tell us as simply as you can.
(h/t to kateoplis)