409

Plays

The Losses and the Laughter We Grow Into with Kevin Kling

On Being
Download External Audio
Turning the Gifts of Our Experiences Into Story and Laughter
by Krista Tippett, host
Full disclosure: until I moved to Minnesota, I didn't get the Midwestern accent/humor thing thing that the movie Fargo so iconically captured. But I remember hearing Kevin Kling on NPR and staying with him despite myself, always being touched as well as amused at where his stories took me.
Having only heard him on the radio, I wasn't aware of the disability he was born with — his left arm much shorter than his right, with no wrist and no thumb. Then, about ten years ago, he was in a catastrophic motorcycle crash. The Associated Press and the local newspapers in Minneapolis and St. Paul reported the accident. Eyewitnesses thought he had died. The accident had paralyzed his healthy right arm, the one which had always done the bulk of the work.
Reading his stories from and about his childhood — they are legion — it is clear that Kevin Kling was always a natural humorist. And life has also made him wise.
Our losses make us human, he's learned. They give us our richness and our wisdom. But wisdom doesn't come cheap; it costs us. This is one of the endless things he says that makes you think hard just before or after he makes you smile.
We get the whole package of Kevin Kling in this conversation: funny guy, poet, wise man. As deeply down to earth as he is — in life as on stage — he also has an innate love of literature and philosophy, weaving Shakespeare and Dante into his stories as easily as Goofus and Gallant.
He describes himself as touched by Dante's underworld. It's a reality he feels he landed in, and wrested himself back from, after his accident. He also plays with Dante's language about the underworld as he considers his very being and presence in the world. Dis, he says, is "the place of shadow and reflection where you round off the rough edges of torment and desire. You go to this world of Dis. And it's the prefix for 'disability,' which doesn't mean 'unability.' It means able through the world of shadow and reflection. And so it's just another way of doing things… it is literally having a foot in two worlds." This is how Kevin Kling experiences the "dis" in the disability he was born with, as well as the one he acquired in midlife.
And being able-bodied, he helpfully points out, is always only a temporary condition.
Sit back, relax, and prepare to reflect and to laugh. It's a rare, lovely gift of Kevin Kling to make us do both. He helps us remember what he knows so well — that our sense of self and our sense of humor are great gifts in facing whatever life throws at us. Once we turn our experiences into stories and laughter, they no longer control us. The challenge is in not merely resting with the stories that help us sleep at night, but claiming the stories we want to grow into.
Fast forward four decades later and you can still see Michael Barone striking much the same pose. Although the turntable isn't positioned in quite the same way and the hair color has blanched a bit (and a digital mixing board has entered the equation but the typewriter's an artifact)
Cool idea from nprfreshair:
Going to start a series called: Awesome vintage pictures from public radio stations. This is MPR host Michael Barone, in the late 1970s.

(via MPR's Michael Barone talks pipe organs and Pipe Dreams | Minnesota Public Radio News)
~reblogged by Trent Gilliss, senior editor
250 Plays
Blowin' In The WindBob Dylan
Download External Audio
Bob Dylan, Musical Prophet: BBC Documentary Traces Singer/Songwriter's Spiritual Journey on His 70th Birthday
by Nancy Rosenbaum, producer
Painting of 'Bob Dylan, Rossilli' by Peter Ross. (photo: Martin Beek/Flickr, cc by-nc-nd 2.0)
The BBC has released Blowing in the Wind: Dylan's Spiritual Journey in celebration of the singer/songwriter's 70th birthday. The radio documentary traces Dylan's path from a Jewish boy bar mitzvahed in Minnesota through and beyond his conversion to evangelical Christianity in the late 1970s. Even if you're not a die-hard Dylan fan, it's well worth 30 minutes of your listening time.
The panoply of voices includes Bishop Nick Baines. A long-time Dylan fan, Baines likens the musician to a modern-day Old Testament prophet, someone who uses poetry to speak truth to power:
"He questions why it is the good people who get it right who end up strung up. … If you go back to the Hebrew scriptures that he grew up with, they're riddled with these complaints, laments, and this question: 'Why do the wicked prosper?' But he comes from a tradition that does that. The Jewish community is very good at questions and Dylan gets it.
Bishop Baines and others point out that religious allusions and imagery are recurring in Dylan's cannon. "Bob Dylan is very much drawing on ancient texts and integrating them into contemporary concerns," says author Seth Rogovy. Selected lyrics from "Blowing in the Wind" such as "How many times must a man look up before he can see the sky?" echo specific passages from Isaiah and Ezekiel, says Rogovy.
Dylan's musical and spiritual path have led him to explore Jerusalem's Old City and the baptismal waters of Malibu. For Bishop Baines, the theological thread unifying Dylan's life and work is his ongoing creative wrestling with the human condition:
"He's constantly looking at human experience and his experience and the way the world is against this backdrop of God and his understanding of the scriptures. And my guess is if he lives to 100 he still will be doing the same thing. … What Dylan gets is the fact that spirituality isn't divorced from reality. So Dylan moves through loneliness, love, sex, God, meaning, all of that. It's all in there."
Words of Wisdom Upon the Death of the World's Oldest Man
by Trent Gilliss, senior editor
A little more than an hour northwest of our studios in St. Paul, Minnesota is the small town of Melrose. And, on September 21, 1896, in that rural farming village just off of what is now known as Interstate 94 was born Walter Breuning, "the world's oldest man" as officially declared by the 2011 Guinness Book of World Records. He died on Thursday in Great Falls, Montana at the age of 114.
Breuning started working for the Great Northern Railway in 1913 and retired when he was 66. The railroad man, whose life spanned three centuries, leaves some sage advice to the rest of us:
"Tell the truth from the go" (it works out better and doesn't kill you).
Eat only two meals per day (breakfast and lunch).
Pay cash for everything (you'll spend more if you charge).
Embrace change (even the computer).
Keep the body busy (even strolling the halls with your walker).
And be kind to others:
"Everybody learns from life what's going on. And if they pay attention to everything that people do, especially helping people, that's one big thing. A lot of people think they're born for themselves; I don't think that. I believe that we're here to help other people all the way through."
Oh, and one other important piece of advice, don't fear death:
"So many people are afraid to die, and there's no use being afraid. You're born to die — everybody. Eventually that's what happens, and maybe it's good, maybe bad. It depends on what you did during your life. If you take care of your life, God will take care of you. Amen."
All photos by John Moore/Getty Images
by Trent Gilliss, senior editor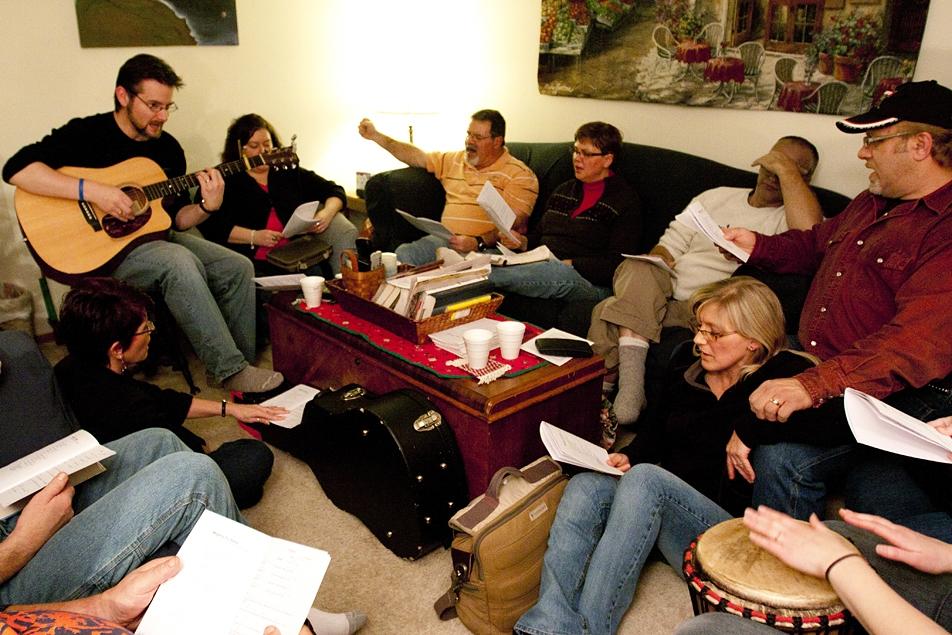 The Blue Fish Group worships in the living room of one of its members.
(photo: Nikki Tundel/MPR News)
Nikki Tundel's photo essay of two home church groups in Cambridge, Minnesota provides an intimate look at worship in small spaces in a satellite community. I'm particularly smitten with the image of a man using a Foosball table as an "altar" for checking Scripture.
The "People's Historian"
Andy Dayton, associate web producer
Last Wednesday was, of course, President Barack Obama's first State of the Union address. And while coverage of the speech filled up the news cycle, there was another important story not to be forgotten: the passing of Howard Zinn.
Zinn was a renowned historian, activist, and author of A People's History of the United States, which presented many of the unheard and undocumented stories of U.S. history. Zinn continued to pursue this course throughout the rest of his life, and in a 2008 interview said that he hoped to be remembered for "introducing a different way of thinking about the world."
Last year a friend invited me to see Zinn's Voices of a People's History of the United States — one of a series of performances that brought the stories of A People's History to life through public readings. Rather than bring a troupe of actors with him, Zinn collected an impressive array of local performers, with a variety of different skill levels and delivery styles. Included in the evening were reenactments of Sojourner Truth's "Ain't I a Woman?," Maria Stewart's "Address Delivered at the African Masonic Hall in Boston" and Martin Luther King's "Beyond Vietnam: A Time to Break Silence."
But the part I found most stirring was a breathtaking delivery of Frederick Douglass' 1852 speech, "The Meaning of July Fourth for the Negro" (you can watch Brian Jones performing the same speech below). On a day that many Americans were celebrating, Douglass delivered a scathing indictment of slavery in America:
"The feeling of the nation must be quickened; the conscience of the nation must be roused; the propriety of the nation must be startled; the hypocrisy of the nation must be exposed; and its crimes against God and man must be proclaimed and denounced.

What, to the American slave, is your 4th of July? I answer; a day that reveals to him, more than all other days in the year, the gross injustice and cruelty to which he is the constant victim."
For me, this memory takes the confluence of Zinn's passing and Obama's address from coincidence to something more meaningful. At first, there is an irony in the fact that a man whose life was devoted to telling the stories of the oppressed was, on his death, nearly eclipsed by the first black president of the United States. And, on the eve of Black History Month, Douglass' words remind us how far we've progressed since his time. It also gives a biting reminder of the problems yet to be overcome and the inconsolable history we continue live with as a nation.
(photo: Andy Dayton/Flickr)
SoundSeen: Prepping (Smelling) Manuscripts with Columba
Trent Gilliss, Online Editor
Yesterday, a few producers (Colleen, Mitch, and I) drove about an hour northwest of Minneapolis to the town of Collegeville to scout locations for Krista's interview with Father Columba Stewart. This small Minnesota town is home to the Benedictine monks of St. John's Abbey and University, and the Hill Museum & Manuscript Library (HMML, or "himmel" as I've heard it pronounced).
If you've heard of their work, it's most probably for the St. John's Bible, a project commissioning the first handwritten, illuminated Bible since the printing press made its appearance in the 15th century. But, these archivists also preserve and digitize an incredibly large number of manuscripts from places all over the globe, including the world's largest collection of Ethiopian manuscripts and continuing projects in Syria, Lebanon, Malta, Ukraine, India, and many countries in Europe.
For this morning's interview, Mitch asked Columba to bring a few examples. So, he and Wayne Torborg pulled out a few and gave us a preview. If only you could smell them. Ooh la la!
Meet Us at the Minnesota State Fair
Shiraz Janjua, Associate Producer
The gang from Speaking of Faith will be at the Minnesota State Fair this Friday, August 22, at the Minnesota Public Radio booth (at the corner of Judson Ave. and Nelson St.), between 8:30 a.m. and 4:30 p.m.
Although Krista will be in Mississippi, if you're in the Twin Cities, come say howdy to Kate, Colleen, Alda, Andy, Mitch, Rob and I (and possibly Trent). Don't worry, I asked your boss if you could take the day off and your boss said it was OK.
I've never been to the State Fair, being from Montreal, so I'm looking forward to the festivities. We Canadians put our cheese curds in a bowl of fries and gravy, so I'll be curious to see what Minnesotans do with 'em. See you there, eh!
(photo: stevelyon/Flickr)
What's the Ojibwe Word for Beep?

"An Ojibwe Language Society Calendar" (photo: Hanson Dates/flickr)
Rob McGinley Myers, Associate Producer
Working on an upcoming SOF show about endangered languages, I called a professor of Ojibwe at Bemidji State University to get recordings of Ojibwe speakers for the radio program and website. His answering machine message was delivered first in Ojibwe and then in English. Then this week I called someone who works at an Ojibwe immersion school in Wisconsin, and his answering machine message was Ojibwe only.
It was a little disorienting but also inspiring to hear the language in this modern context, especially considering that Ojibwe is one of only a handful of Native American languages now spoken in the United States and Canada that is expected to survive beyond 2050.