129

Plays

The Structure of DNA

BBC
Download External Audio
"It immediately looked right."

It's been 60 years since the double helix structure of DNA, the key to life itself, was first revealed to the world. The BBC's "Science in Action" walks the listener along the journey of this discovery with some of the scientific giants of the time. The delight is still there in those voices. So wonderful.


Also clears up some of the debate over the credit of Crick and Watson. Their approaches to modeling and sense of beauty moved the idea forward… through actual base pairing cut-outs!

(h/t Krista Tippett)
257 Plays
Brené Brown on VulnerabilityOn Being with Krista Tippett
Download External Audio
I'm a snowboarder—that's probably my biggest hobby. I'm also into this really interesting podcast 'On Being.' A journalist [Krista Tippett] interviews everybody from a man who changed his life through his relationship with animals to this guy who studies creativity in the brain. It's fascinating.
Guess what famous actress gave our public radio program a shout-out in the August issue of InStyle magazine?
That's right. It's Jessica Biel. Very cool.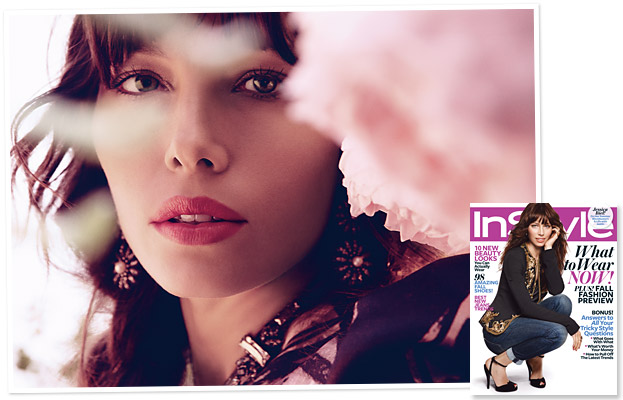 Q:how do I subscribe to your program

Anonymous
Dear Anon—
Oh, it's so easy. If you have an email address, we have a weekly newsletter waiting for you each Thursday. It has links to the latest On Beingshow and our host's journal reflecting on her interview with each week's guest. And, if you prefer to just get the audio, subscribe to our podcast on iTunes.
Thanks for joining us!
Trent Gilliss, senior editor
What a wonderful Monday morning surprise. Our show with storyteller Kevin Kling has catapulted our On Being podcast to #15 on iTunes' Top Podcast list. It's so cool to be in the company of such an eclectic and groovy array of podcasts — from The Moth to Real Time with Bill Maher and TedTalks. Kling's insights are profound and delightful, and I only hope more people get to know him.
~Trent Gilliss, senior editor
409 Plays
The Losses and the Laughter We Grow Into with Kevin KlingOn Being
Download External Audio
Turning the Gifts of Our Experiences Into Story and Laughter
by Krista Tippett, host
Full disclosure: until I moved to Minnesota, I didn't get the Midwestern accent/humor thing thing that the movie Fargo so iconically captured. But I remember hearing Kevin Kling on NPR and staying with him despite myself, always being touched as well as amused at where his stories took me.
Having only heard him on the radio, I wasn't aware of the disability he was born with — his left arm much shorter than his right, with no wrist and no thumb. Then, about ten years ago, he was in a catastrophic motorcycle crash. The Associated Press and the local newspapers in Minneapolis and St. Paul reported the accident. Eyewitnesses thought he had died. The accident had paralyzed his healthy right arm, the one which had always done the bulk of the work.
Reading his stories from and about his childhood — they are legion — it is clear that Kevin Kling was always a natural humorist. And life has also made him wise.
Our losses make us human, he's learned. They give us our richness and our wisdom. But wisdom doesn't come cheap; it costs us. This is one of the endless things he says that makes you think hard just before or after he makes you smile.
We get the whole package of Kevin Kling in this conversation: funny guy, poet, wise man. As deeply down to earth as he is — in life as on stage — he also has an innate love of literature and philosophy, weaving Shakespeare and Dante into his stories as easily as Goofus and Gallant.
He describes himself as touched by Dante's underworld. It's a reality he feels he landed in, and wrested himself back from, after his accident. He also plays with Dante's language about the underworld as he considers his very being and presence in the world. Dis, he says, is "the place of shadow and reflection where you round off the rough edges of torment and desire. You go to this world of Dis. And it's the prefix for 'disability,' which doesn't mean 'unability.' It means able through the world of shadow and reflection. And so it's just another way of doing things… it is literally having a foot in two worlds." This is how Kevin Kling experiences the "dis" in the disability he was born with, as well as the one he acquired in midlife.
And being able-bodied, he helpfully points out, is always only a temporary condition.
Sit back, relax, and prepare to reflect and to laugh. It's a rare, lovely gift of Kevin Kling to make us do both. He helps us remember what he knows so well — that our sense of self and our sense of humor are great gifts in facing whatever life throws at us. Once we turn our experiences into stories and laughter, they no longer control us. The challenge is in not merely resting with the stories that help us sleep at night, but claiming the stories we want to grow into.
Q:how can I listen to On Being on my Kindle Fire??

Anonymous
Good morning, Anonymous—
I'm going to do a partial punt on this one because none of us on staff have a Kindle Fire, and thus do not have an intimate knowledge of the device that might offer you specific steps. That said, we do offer each weekly show and unedited interview via podcast or as individual downloads on each episode's show page at the On Being website. I'll defer to our readers and Tumblr dashboard audience to offer better advice on apps that might make this experience easier.
I am one of those cats who uses Amazon's Cloud service. A lot. Perhaps I can offer a possible workaround in which you download the mp3 to your device and then sync it to your Amazon Cloud account. That way you can use the native music player to stream your favorite On Being episodes without having to hound-dog them on your device!
When you find a solution, please let me know what works best. We're starting to receive a number of questions about Kindles and I'd like to be able to share your solutions with others.
Happy holidays,
Trent Gilliss, senior editor
Finding Balance through Paint
by Joel Traylor, guest contributor
One of my paintings, "Finding Balance," serves as a reminder to myself that balance can only be achieved by seeking it moment to moment. On Being is one of my podcasts of choice while working in my studio.
---
Joel Traylor is an artist living in Mount Rainier, Maryland.
We welcome your original reflections, essays, videos, or news items for possible publication on the Being Blog. Submit your entry through our First Person Outreach page.
Love the Podcast. Turn It Up!
by Chris Heagle, producer
I'd like to give a shout out to Danny from Tennessee who emailed the show about our podcast levels. He noticed that our show was significantly quieter than some of his other favorites. Turns out that he was right, and we're going to do something about it.
There are a surprising amount of steps involved in creating the final podcast you get on your mobile device, all of which occur after the final audio is produced for the broadcast version of the show. Believe me, I wish we could produce the show like we would for a CD, giving the listener the best possible experience. Unfortunately, in the world of the podcast, file size and download speeds as well as the myriad of playback devices are limiting factors with which we wrestle while trying to preserve audio quality.
To add to that, we attach a bunch metadata to the audio including the carefully designed album art and descriptions that accompany each episode. So, long story short, in an attempt to provide more complete and interesting metadata, On Being has taken a different route through APM's normal podcast encoding software. By doing manually encoding and adding information to the file, we are able to create a better experience for our online listeners.
What we didn't realize was that our audio was doing an end around some processing that would boost the levels to match our parent company's other shows like Marketplace and The Splendid Table.
Sometimes, innovation can have unintended consequences, but thanks to feedback from our listeners, we'll keep trying to raise the bar in all aspects of our show. Keep listening and, by all means, keep telling us what we can do better!
60 Plays
Evolving FaithKrista Tippett on Being
Download External Audio
Reflections on a Radio and Digital Adventure
by Krista Tippett, host

"Volar" (photo: Kaytee Riek/Flickr via Creative Commons)
It's been a complex year in my life. I boarded a plane for nearly two weeks away — a restful vacation, this time, to make up for the exciting but exhausting schedule of events and travel of this past spring and fall. I keep thinking about Esther Sternberg's analogy about the effects of stress on our bodies: that, just as we need to reboot our computers, sometimes we also need to reboot ourselves. Shut down, and then restart. To be more personal about this, I'm feeling my limits — physical and mental — and though that is hard, it is also good and necessary.
It has also been a momentous year on the program, of course — a year of change and the excitement and vulnerability that come with that. There are things I would change about the process of introducing the new name, if I could. This too is the nature of life. I wish, for example, that we had made the process more transparent to our listeners. Practical exigencies made that impossible.
Yet, as I experience it now, the name change remains a work in progress that we and you, long-time and new listeners, now live into together. In the beginning, we used the formal name of Krista Tippett on Being as a bridge between the old and the new, understanding that it would quickly be shortened in casual usage. We're experiencing that the short form nearly everyone prefers is On Being, not the word Being on its own. I like that.
And while even I work at times to get used to this new identity, I'm grateful for this vast yet elemental framing word we chose. I just turned 50. I've been creating this radio program and podcast, if you include the piloting that led to its launch, for a decade. My craving to draw out the big questions and big ideas of life is unabated. At the same time, more than ever before, I am utterly impatient when these questions and ideas remain abstractions. I need to see them lived and embodied and therein tested and stretched. We need more than a self-contained concept in our world called "faith."
We need virtues — the practical expressions of faith, spiritual life, and ethical imagination — at play at the center of life. We need questions so vigorous, existential, and sacred that they change us, become part of our very being and our action in the world. That spirit gave rise, after all, to all of our great traditions, and it will reinvigorate them for the exacting century to come.
And I have continued to hear fresh wisdom and hope coming from unexpected places as we've produced our shows and events of this past fall and winter. I will never forget the young founder and chairman of Twitter leaning forward in his seat at the Clinton Global Initiative, telling me that social networking technologies should reinforce the value of human relationship — ultimately driving us towards new ways of connecting physically as well as digitally. My sense is that while his passion lies close to his surface, he is rarely invited to give voice to it. It is counterintuitive to many casual analyses of social networking's dangers.

Jack Dorsey, co-founder and chairman of Twitter, answers my question at a plenary session on technology at the 2010 Clinton Global Initiative. In the foreground, Ory Okolloh, founder and executive director of Ushahidi, laughs along with and John Chambers, chairman and CEO of Cisco.
More recently, I moderated a discussion, sponsored by the New York Academy of Sciences and the Nour Foundation, on emerging understandings of the nature of human consciousness. This was a conversation at the intersection of science and philosophy — an intersection, interestingly, that the discoveries of cutting-edge science are making necessary again. There were a range of views on that panel about how intrinsically "real" the human self may be, how dependent on or potentially transcendent of mere biology. A German philosopher on the panel represented the extreme view that our experience of our selves is, in the end, a biologically generated illusion that dies with us. Yet even he acknowledged that the effects of our consciousness don't remain isolated — our "selves" imprint other realities, other conscious and unconscious beings, in manifold, uncontainable ways. We change the world as we move through it. I'm recalled to those intriguing insights of Paul Davies, in my interview with him about Einstein:
"Einstein was the person to establish this notion of what is sometimes called block time — that the past, present, and future are just personal decompositions of time, and that the universe of past, present, and future in some sense has an eternal existence. And so even though individuals may come and go, their lives, which are in the past for their descendants, nevertheless still have some existence within this block time. Nothing takes that away. You may have your threescore years and ten measured by a date after your death. You are no more. And yet within this grander sweep of the timescape, nothing is changed. Your life is still there in its entirety."
I was surprised at first when members of our team suggested that we reprise, and to some degree, recraft the show we created in September to introduce our name change to listeners. But I've come to see it as fitting for the turn of a year, and the end of the momentous decade in which this program has grown up. It is a kind of snapshot of the timescape, up to now, of this radio and digital adventure. We do not lose any of this. We build on it as we move forward. And we continue to build it with you, our listeners and readers.
Please know that while every email you write to us is not answered, every email and Facebook posting and tweet is read and pondered and becomes part of the identity of this project too. I wish you all a blessed season and new year, and am grateful to you beyond measure for helping to keep this improbable media space alive and growing.