At this moment in my household, there are two things that are being played and replayed by my immediate family: on the television, the movie Pitch Perfect, and in the car, Lorde's catchy hit song "Royals."
Enter Florida State University's AcaBelles to beautifully merge these two spheres. The video is nearing five million views on YouTube now and is worth posting, if only to hear an flesh-and-bone a cappella group rival those Barden Bellas. It's a gorgeous rendition that just might compel you to loop a few times this morning — and in the process smile, groove, and contemplate the message of the song.
~Trent Gilliss, head of content
Seinfeld on How to Tell a Joke
From our senior editor Trent Gilliss' Tumblr:
"In my world, the wronger something feels the righter it is. So too waste this much time on something this stupid… that felt good to me. "

A superb five-minute short on how Jerry Seinfeld writes a joke from The New York Times.
Tablet Magazine's e-cards for the High Holy Days. The best kind of irreverence, and you don't have to be a Jew to send one of these gems.
Yom Kippur? I barely knew her! Oy. Have an easy fast.
If we have sinned against you by idle chatter, you probably deserved it. Still, have a good Yom Kippur.
He's making a list, checking it twice, gonna find out who's in the Book of Life. Hope you made it. Happy Rosh Hashanah.
You go to shul. I'll be home with apples and honey boo boo child. To a sweet and happy new year!.
I'm a snowboarder—that's probably my biggest hobby. I'm also into this really interesting podcast 'On Being.' A journalist [Krista Tippett] interviews everybody from a man who changed his life through his relationship with animals to this guy who studies creativity in the brain. It's fascinating.
Guess what famous actress gave our public radio program a shout-out in the August issue of InStyle magazine?
That's right. It's Jessica Biel. Very cool.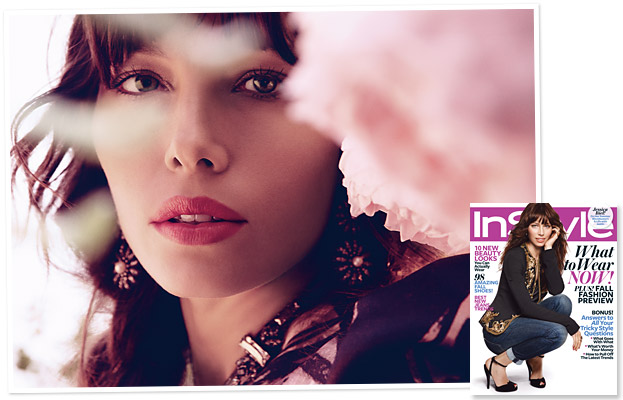 What happens when a wise, crusty theologian grounded in Christian realism meets an enterprising, teen pop idol buttered in Christian goodness? Reinhold Bieber, that's what.
~Trent Gilliss, senior editor
839 Plays
God Is in the RosesRosanne Cash
Download External Audio
Coffee with Johnny Cash on His 80th Birthday
by Trent Gilliss, senior editor
The sun is on the cemetery, leaves are on the stones, there never was a place on earth that felt so much like home.
Let's celebrate what would've been Johnny Cash's eightieth birthday today with a song his daughter Rosanne Cash composed while mourning the loss of her father. As she explained to us earlier this year, the middle verse of "God Is in the Roses" came about the day after she buried her father:
"I got up at 5:00 in the morning and waited for the Starbucks to open and got coffee and went and sat on his grave and watched the sun rise — the sun, yeah, the sun rise on his grave. And it was really comforting to me. I took two cups of coffee — one for him. And I felt so at peace watching the sun rise on his grave and then that gave me that verse. But then I wanted to go out to, you know, more than just my personal experience, when I'm saying, I love you like a brother, father and a son. And now when I sing that live, I sing, I love you all like brothers."
710 Plays
Grace NotesVox Tablet
Download External Audio
Bluegrass Unites: A Musical Collaboration Between an Orthodox Jew and Evangelical Christian
by Trent Gilliss, senior editor
Bluegrass. One never quite knows where this quintessential American music form might pop up or whom it might unite. Leave it to the podcast Vox Tablet to highlight the story of country music star Ricky Skaggs and klezmer virtuoso Andy Statman, who have recorded a gorgeous rendition of the eighteenth-century hymn "The Lord Will Provide" for Statman's new album Old Brooklyn.
The audio piece above details how these two men, an Evangelical Christian from a small town in eastern Kentucky and an Orthodox Jew raised in Queens, found each other and came to play together. Their recounting of the first time Skaggs visited Statman's schul is a wonderful testimony to the power of music and its ability to bring people together, helping folks discover the absolute delight of other religious communities.
160 Plays
Monsters We Love: TV's Pop Culture Theodicy with Diane WinstonOn Being
Download External Audio
Monsters We Love: The Power of Stories in Every Era, in Every Medium
by Krista Tippett, host
When I first sat down to interview Diane Winston, I told her that I didn't want to start our conversation with zombies and vampires. I didn't want to spend all of our time on them, but they quickly became the focus of the entire first half of our conversation nevertheless.
As I had sensed, and Diane Winston helped me understand in a whole new way, monsters — human and otherwise — are an immensely playful and deeply serious way in to the story of our time. And television — as she and I first discussed a few years ago through shows like Lost, 24, Battlestar Galactica, and The Wire — is a medium where more and more creative people are drawn to tell this story in fresh and surprising ways. Like it or not, TV is a primary place in this culture where we act out the ancient human compulsion to engage who we are, what we fear, who we aspire to be.
Not surprisingly, as much has changed on the planet in the past few years, much has changed on the small screen. There is what I'd call a whole new genre of total civilizational collapse. Art and drama confront reality by exaggerating it. The instability people are feeling and fearing from the economy onwards comes out in the new TV season through scenarios in which a mysterious plague has turned most of humanity into soulless zombies (The Walking Dead); total environmental collapse has sent humans back in time to co-exist with dinosaurs (Terra Nova); and aliens have disabled modern technology and wiped out government and civil society as we know it (Falling Skies). Falling Skies was co-created by Steven Spielberg, and its departure from the sweet memory of E.T. surely says something about shifting perceptions of the hostility of the world "out there" — extraterrestrially and terrestrially.
The Walking Dead and its zombies, as I hadn't quite realized until I dug into this topic, deserve special attention. Its second season premiere was the highest-rated television drama in the history of basic cable among viewers in the 18-49 demographic. It picks up some of the themes and touches of the wildly popular Lost. It turns them inside out as well. In Lost, bands of survivors were thrown together to find their way out of a supernatural place; along the way, they knew equal measures of love and loss, tragedy and redemption. In The Walking Dead, Earth itself has become a supernatural place in a horror story way. And the zombies — murderous creatures who used to be human and are now reactivated brain stems — are not the walking dead; the survivors are, as the show's creators tell us up front. Life is reduced to a nightmare. Moments of hope and redemption are scarce and short-lived.
A semi sports an advertisement for The Walking Dead on its payload. (photo: Ewen Roberts/Flickr, cc by-nc-nd)
As Diane Winston points out — and she is one of the sharpest watchers of these things I know — these plot lines are thick with ancient, abiding questions of meaning, of the presence or absence of God, of morality writ large. In this show, we play a scene taking place in an abandoned church in The Walking Dead, which is as overtly theological as anything I've seen on television in my life — complete with a cross, prayer, confession, martyrdom, and overtones of Jesus in Gethsemane and the sacrifice of Isaac. Diane Winston says to me, at one point, "People have been asking 'Where is God?' for thousands of years and why wouldn't we be asking the same question? And why wouldn't we want to represent it in our own language rather than in the King James version?"
It's a relief, really, to turn from zombies to vampires, who populate a number of shows and who at least have emotional lives and relationships. True confession: I am a True Blood lover, as is Diane Winston. Vampires unlike zombies, she points out, are sexy. They are playful characters for projecting ideas about mortality, otherness, and the meaning of being human. And in part because their "true blood" is obviously fake, they fare positively in contrast to other monsters on TV right now who happen to be human — the serial killer Dexter or the teacher-turned-meth dealer and murderer on Breaking Bad. It is completely fascinating to hear what Diane Winston knows about the intentions of the writers of these series — the fact, for example, that Vince Gilligan, the series creator of Breaking Bad's bleak badness, is all about examining the reality that actions have consequences.
As a mother as much as anything else, I occasionally worry about the severity of these images as tools for examining morality. But Diane Winston's perspective is bracing and comforting in some sense — reminding us to trust the power of stories which have endured through every era of human confusion and darkness. I remember the psychiatrist and author Robert Coles telling me how children know what to do with stories — and that we shield them from the world's darkness and despair at their own peril. It is after all their world to make sense of, to navigate, and to repair.
And in the end, this is not a dark hour of radio. We've layered lots of great sound of various TV shows throughout my conversation with Diane Winston. We move beyond zombies and vampires to fascinating religious complexity in 24's successor, Homeland, and the fascinating back story to HBO's Enlightened. It's a strange and unpredictable mix that's in the end funny and scary, bleak and hopeful, endlessly mysterious and endlessly familiar. Like life itself.
In spite of everything that's gone before, the last 12 months have been the happiest and most special of my life. To become a parent is a blessing I never imagined might be bestowed upon me until recently. It's an awe-inspiring responsibility and both David and I are determined to fulfil that responsibility — not just to our son but to his generation. We want him to grow up in a Britain where every young person is not just loved as much as we love him, but is afforded fair treatment and respect. However, as we start thinking about Zachary's future education, it's clear that this Britain doesn't exist yet.