Madness Redefined: Creativity, Intelligence and the Dark Side of the Mind (live video)
by Trent Gilliss, senior editor
What's the line between utter brilliance and incalculable madness? Maybe it's not a line but a shifting spectrum. Live from the World Science Festival (8pm Eastern), leading researchers discuss new studies showing that people with bipolar disorder and schizophrenia tend to possess higher creativity and intelligence.
We've got a producer on the ground scoping out the panelists — James Fallon, Kay Redfield Jamison, Susan McKeown, and Elyn Saks — as potential guests for On Being. Watch the live video stream and share your suggestions on whom you'd like to hear on our program.
The Creator: A Film That Explores Alan Turing's Enduring Question
by Susan Leem, associate producer
This week's show with physicist Janna Levin spends a great deal of time discussing her novel about Alan Turing. Tonight, Ms. Levin is helping launch a short film about the legacy of the computer scientist and code breaker called The Creator, which makes its world premiere at the World Science Festival:
"[it] follows sentient computers from the future on a mystical odyssey to discover their creator: legendary computer scientist Alan Turing. Decades ago, Turing famously asked, 'Can machines think?' and ever since, the notion of computers exceeding human intelligence has transfixed researchers and popular culture alike."
Students with Depression Use the Internet Differently
by Susan Leem, associate producer

Photo by Pedro Figueiredo/Flickr, cc by-nc-nd 2.0
Moving beyond the debate of whether Facebook or other Internet use causes depression, researchers at Missouri University Institute of Science and Technology found that students who show signs of depression clearly have different patterns of Internet use. These students are more likely to share large files, send email, and chat online. Also, they are more likely to switch from application to application in a random manner, which is thought to reflect a difficulty with concentrating, and is one marker of depression.
Researchers hope this data can be used someday to help diagnose mental disorders by unobtrusively monitoring and analyzing the Internet behavior of a wider population. It may even alert the user when their usage starts to reflect a depressive pattern.
On Being at the World Science Festival
by Trent Gilliss, senior editor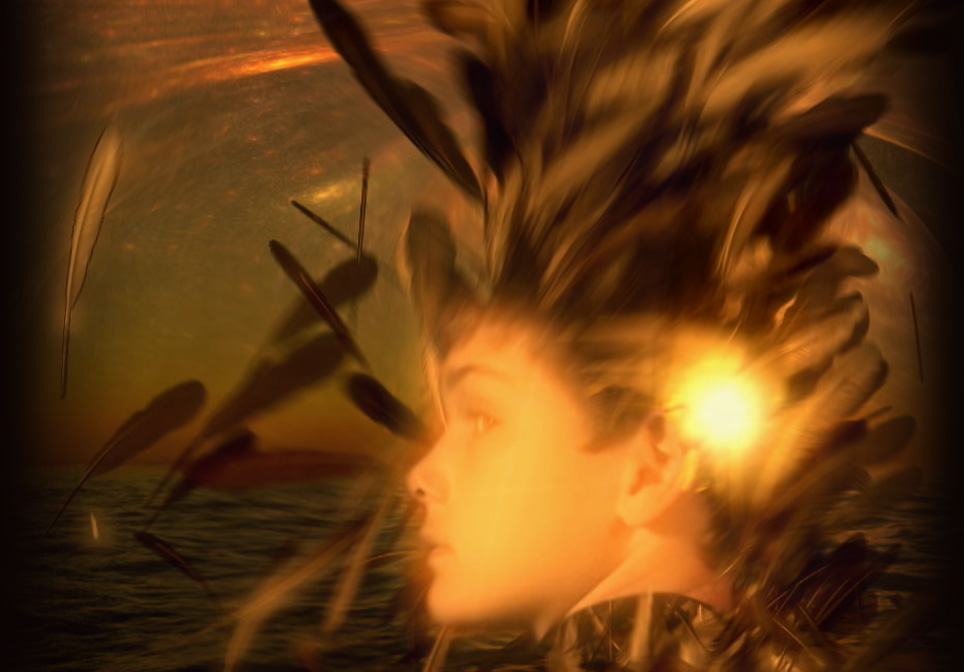 Today the 2012 World Science Festival kicks off in venues across New York City. Two memories that jump out at me from past events are Bobby McFerrin's demonstration of the universality of the pentatonic scale and string theorist Jim Gates' story about encountering "God" on an Icelandic mountaintop.
And, in attendance will be our former senior producer Colleen Scheck will be doing a bit of moonlighting forOn Being. During the next several days, she and Peter Clowney will be scouting potential voices for future interviews with Krista and blogging + tweeting some of the highlights and provocative ideas.
Here are the events they'll be attending. If you have any suggestions or ideas about what to think about or ask, please drop us a line in the comments section:
THUR, MAY 31 
8:00pm – 10:00pm "The Creator: Alan Turing & the Future of Thinking Machines"
8:00pm – 9:30pm "Madness Redefined: Creativity, Intelligence and the Dark Side of the Mind"
 
FRI, JUN 1 
9:00am – 10:00am "Pioneers in Science: Featuring Elaine Fuchs"
7:30pm – 9:00pm "The Elusive Neutrino and the Nature of the Cosmos"
8:00pm "Quantum Biology and the Hidden Nature of Nature"
 
SAT, JUN 2 
1:00pm – 2:00pm "On the Shoulders of Giants: A Special Address by Edward O. Wilson"
1:00 – 2:30pm "Internet Everywhere"
3:30pm – 5:00pm "Exoplanets : The Search for New Worlds"
3:30pm – 4:30pm "Einstein, Time, and the Coldest Stuff in the Universe
6:00pm – 7:30pm "Why We Prevailed: Evolution and the Battle for Dominance"
8:00pm "Why We Tell Stories: The Science of Narrative"
8:00pm – 9:30pm "Spooky Action: The Drama of Quantum Mechanics"
340 Plays
Getting Revenge and Forgiveness with Michael McCulloughOn Being with Krista Tippett
Download External Audio
Getting Revenge and Forgiveness: Science That Liberates Us from Reductive Analyses
by Krista Tippett, host
I first began to gain a kind of respect for the revenge impulse in human life when we worked, in the early days of this program, on a show about the death penalty. I came to understand that revenge was the original "criminal justice system." For most of human history, prior to the rule of law, prior to structures of justice that transcend the messiness of human interaction, the threat of retaliation has been a primary tool humans possessed to pursue justice and also to deter cycles of violence. I'll never forget Sister Helen Prejean, a great campaigner against the death penalty,
describing anger as a moral response. The question, of course, is where we let that anger take us.
Now, as Michael McCullough lays out passionately, science is able to document how normal, and purposeful, our instinct for revenge is. In the brain, the instinct for revenge looks like a "craving," a felt need that begs for satiation. We do range into the realms of global geopolitics in this conversation — to the world around Joseph Kony in Uganda no less — Michael McCullough is just as interested in the mundane forms this craving takes: in our reactions to neighbors and irritating co-workers or to our political opposites.
The good news is that Michael McCullough's research is also revealing that forgiveness is hard-wired in us — purposeful and normal. He says that to think of forgiveness as a trait of the weak and the vulnerable reflects a simplistic imagination about evolutionary biology. We tolerate and excuse the deficits and mistakes of those we know and love and work with —
and even those we don't love but need to work with — many times each day. Forgiveness doesn't work in real life as it too often works in media portrayals of dramatic stories of conversion and high emotion. It happens constantly, and we rarely stop to glorify it with the lofty word "forgiveness."
This science, in other words, liberates us from reductive analyses of ourselves and the world around us. If we accept the normalcy of our instincts both to revenge and forgive, and can see what triggers them both, we have more control over both.
On its cautionary side, it offers lucid explanation of why human societies remain vulnerable — physiologically, not merely politically — to falling back on retaliation and violence as a form of justice. When we cease to see our own well-being as linked to that of others, when we feel threatened by their very existence and are only able to see them amorphously as part of an opposing group, the forgiveness instinct becomes less possible and violence more likely.
This conversation with Michael McCullough heightens my sense of what is at stake in the present global and national moment. One the one hand, the interactivity of the globalized world should make it possible — even necessary — for us to know people far beyond our families and "tribes" as necessary to our survival and even our flourishing.
I am also deeply concerned, as we roll through another toxic election year, at how complete the chasms in American society have become. We have divided ourselves in countless ways — between red and blue, between the 99 percent and the 1 percent. Such distinctions are surely inevitable. But the utter lack of communication, courtesy, and curiosity across these divides seems new to me. Alarmingly, the religious traditions that have been humanity's moral respositories are also implicated in some of these divisions. How intriguing to imagine that we might harness lessons of science towards a more reconciliatory, peaceable future.
The preference for symmetry was the product of non-differential conditioning.
Photo by Mark Round/Flickr, cc by-nc-nd 2.0
Researchers at the University of Ottawa discovered that bumblebees don't have a natural preference for symmetry in nature. In the journal Learning and Motivation, the Canadian scientists' found that once bees learn to distinguish bilateral symmetry by rewards for symmetry, they begin to strive for the perfect flower.
~Susan Leem, associate producer
Black Holes and the Sonic Song of the Universe
by Trent Gilliss, senior editor
As Gordon Hempton points out, silence isn't necessarily an absence of sound but a presence all its own. And, in much the same way, physicist Janna Levin says, space isn't necessarily quiet either. Working at her lab at Columbia University, she projects that the universe creates an aural footprint that "will be music to our ears because it will be the quiet echo of that moment of our creation of our observable universe." If we can only pick it up…
In this presentation at TED 2011, she plays her projections of the sounds the universe makes — black holes merging and falling into one another, the "white noise of the Big Bang. It'll make you wonder about the biggest questions at the core of what it means to be a sentient being in this universe or the next.
On the Universality of Creativity in the Liberal Arts and in the Sciences
by S. James Gates
In this lecture for Westmont College's series titled "Beyond Two Cultures: The Sciences as Liberal Arts," string theorist Jim Gates offers his thoughts on the complementary natures of science and the liberal arts — and how the human mind formulates "systems of belief" in both disciplines. 
This is the first time, in a formal structured way, I've been asked to speak before a group of academicians on this set of issues. It is a great honor to be invited to speak on behalf of one of the two "cultures" mentioned in the commentary by C.P. Snow (1905-1980) in New Statesman. It is also a great challenge to be so called upon to speak for an entire "culture." Of necessity, my comments were created from the vantage point of thirty or so years of working embedded within the academic/scientific culture, and specifically within the field of physics. My views have been molded by this experience.
In preparing for this conversation, I have given much thought to how I, as a scientist, could make a valuable contribution to this tradition established at Westmont College. I believe this is best accomplished by spending most of my presentation describing the attributes of the culture of science as I have experienced them and reflected upon this experience. I claim no special abilities or qualifications to be making this presentation. I am most certainly and woefully uninformed on what I am sure must be a vast liberal arts literature on science and culture. I am, however, a theoretical physicist who has made an effort to think on such matters.
Shoah: A Table of Elements
by Dov Abramson, guest contributor
"The trade of chemist (fortified, in my case, by the experience of Auschwitz), teaches you to overcome, indeed to ignore, certain revulsions that are neither necessary nor congenital: matter is matter, neither noble nor vile, infinitely transformable, and its proximate origin is of no importance whatsoever. Nitrogen is nitrogen, it passes miraculously from the air into plants, from these into animals, and from animals into us; when its function in our body is exhausted, we eliminate it, but it still remains nitrogen, aseptic, innocent."
—Primo Levi, The Periodic Table
The Holocaust represented a contradiction in perception: ordered, regimented evil and unrestrained, billowing pain. For decades, artists have sought to capture the ineffable destruction that befell the Jewish people.
"Shoah: A Table of Elements" describes the task of making order of the ungraspable. In so doing, it works to release some of the emotional charge of our most raw subjects, while evoking the more prominent associations of the Holocaust: the gases, the smoke, the debris.
"Shoah: A Table of Elements" is a meditation on how we commit to memory, how we use symbols, and how we represent that which we cannot behold.
---
Dov Abramson is founder and creative director of an art and design studio in Jerusalem, Israel. His work combines classic graphic design and branding with independent artistic work that deals with Jewish and Israeli identity. His projects have been featured in Zeek, Forward, Maariv, Haaretz, and the Chicago Tribune, and his art has been exhibited at The Jewish Museum in New York and the Israel Museum in Jerusalem.
We welcome your original reflections, essays, videos, or news items for possible publication on the On Being Tumblr. Submit your entry through our First Person Outreach page.