Postcard from San Francisco: Jun Kaneko's Tall Dango.
(via trentgilliss)
Postcard from SFO: Tyrannosaurus Butterfield.
(via trentgilliss)
From our head content honcho trentgilliss:
This sculpture by Nicolas Africano greets me each time I enter RKMC's law offices this past week.
Bill Manning and his staff have been absolute peaches during our buildout and transition to Loring Park.
Illuminating Maine's Deep Winter with Light Sculptures
by Nancy Rosenbaum, producer
"Castle in the Park" at Deering Oaks Park in Portland, Maine. (photo: David LaCasse)
The holidays are over and there's no getting around the fact that it's January and bitter cold in the Upper Midwest. The days, while inching longer into light, are still short. Now is the time of deep winter, when a touch of light goes a long way.
Last week, as I caught a glimpse of holiday lights being dismantled from an indoor public tree display, I thought, "Already? It's not even New Year's. Now's the time when we need the light the most."
The good people of Portland, Maine understand this need in their watery bones. From Thanksgiving through Valentine's Day, the city is bedecked in glorious light sculptures designed by local artist Pandora LaCasse. For over a decade, Ms. LaCasse has been transforming public parks and buildings into canvases for her light art.   
"Along the Pond" at Deering Oaks Park in Portland, Maine. (photo: David LaCasse)
Ms. LaCasse, a native of Maine, says that place matters in her work and that the state's landscape inspires her creativity. As she told one interviewer, "I'm always trying to get the essence of a place. I think people like the lights because it's the middle of winter and they respond to the color and light. And it's accessible."

Tommy's Park in Portland, Maine. (photo: David LaCasse)
"The Candelabra" at Deering Oaks Park, Portland, Maine. (photo: David LaCasse)
"Cascading Spheres" adorn the face of the Maine College of Art in Portland, Maine. (photo: David LaCasse)
Ms. LaCasse's color-drenched creations feature abstract shapes found in nature, like teardrops and orbs. They're not the stuff of Santa, candy canes, and the nativity. I once lived in Maine and now make my home in Saint Paul, Minnesota where my neighbors festoon their homes with holiday lights. As much as I admire these wintry displays, I do so as a non-Christian outsider, who's observing them from afar. Pandora's lights were different. I could love them without feeling excluded. They were a balm for my soul in deep winter and I miss them.
Longfellow Square in Portland, Maine. (photo: David LaCasse)
Little Diamond Island. (photo: David LaCasse)
Making Life Out of Ruin in Ramle: The Work of Sculptor Nihad Dabeet
by Janine Rayford, USC graduate journalism student
"This is the project of my life," says sculptor Nihad Dabeet, 43, as he gives a tour of his unfinished home in Ramle, Israel. Built over 400 years ago, the house was in ruins until its newest tenant devoted himself to its renovation. Mr. Dabeet says he and his wife continue to excavate and build upon the land, without permission from the government.
Petite and jovial, Mr. Dabeet is an internationally known artist and sculptor who usually works with iron wire. From his dingy jeans and sweatshirt, it is hard to imagine a man whose art can cost thousands of dollars and is displayed and purchased throughout the world, including a recent exhibition in Atlanta, Georgia.
Now Mr. Dabeet's main masterpiece is his home. Renting from an Arab couple who have owned the property before the State of Israel declared independence in 1948, the Ramle native and his wife have excavated rooms buried under more than 10 feet of sand and rubble.
With an art education from Bulgaria, Mr. Dabeet says that "as a sculptor you understand materials." This understanding is allowing the Arab citizen of Israel to reconstruct a home out of ruin. So far, Mr. Dabeet has only refurbished a small percentage of the original structure.
What was once rubble has become a modern home with an aged façade. There are flat-screen televisions and jetted hot tubs, with Mr. Dabeet's sculptures of women and olive trees featured throughout. The new mortar ends towards the back of the house.
Unlike in Jerusalem and Nazareth, the Israeli government and local Ramle municipality have not invested in the architectural preservation of Ramle. It is up to individual residents and shop owners to restore and maintain the centuries-old structures of the biblical city, often without support from the current government.
"They want to clear the old part and to build something new," says Buthaina Dabit, a Ramle native who is giving a tour of the local ruins. Ms. Dabit points out the remnants of a building from the Ottoman period, which has been partially cleared for a parking lot near local shops.
Today, many buildings in Ramle are dilapidated and unlivable. "It's Arab culture, so it has to be erased," says Mr. Dabeet, speculating on why he thinks the city abstains from preservation. Families move on as stones crumble from their properties' arches and ceilings, burying architecture and artifacts in piles of beige rubble. Stray cats abound amongst relics and materials that could belong in the Smithsonian.
Past the bathroom and through an open quad, the sculptor shows one unfinished room at the back of the house, where the ceiling continues to deteriorate.
"If I am not here to repair this every few years, it will just fall in," he says.
All of this work will be for not if the city decides to bulldoze the property due to the illegal expansion of the structure. It is difficult for Arab citizens to receive permits to build or expand on their land. If they build without permits, their structures are subject to demolition by the municipality.
Despite lacking a building permit, "he insists to pay the taxes," said Ms. Dabit. The artist hopes that paying taxes regularly may spare his home from demolition.
One of Mr. Dabeet's projects is to resurface an entire room using tiles gathered from demolished Arab homes in the area. The artist has no trouble finding these tiles, considering the large number of home demolitions that have occurred in the Arab communities of Ramle and neighboring Lod. In an open-air quad on the property, festive-looking ceramic squares, some broken, stand in piles along the stone wall.
Dabeet's house sits in the Christian quarter of Ramle, in the shadow of the massive Terra Santa Franciscan monastery and a few blocks down the street from an 800-year-old Arab-Christian restaurant.
Mr. Dabeet is a self-proclaimed atheist. "I never believed in the b—- s—-," says the artist, standing next to a small plastic Christmas tree atop his refrigerator. His wife is a Muslim Bedouin from Libya and the mother of his two young daughters. The Dabeets are the only Muslim family in the area.
When Mr. Dabeet's wife comes home with their girls, he scoops up his eldest daughter Samira Landa. Despite the uncertain future, the father is proud of the home that he is creating for his family, as well as the benefit it brings to the community.
"I was the right person in the right time to come to this place."
All photos by Bethany Firnharber.
---
Janine Rayford is a freelance writer and graduate student in journalism at the University of Southern California. Originally from San Francisco, Rayford obtained her bachelor's degree from UC Berkeley. Her writing has appeared in 944 magazine, LAmag.com, and the Cape Times of South Africa.
We welcome your original reflections, essays, videos, or news items for possible publication on the Being Blog. Submit your entry through our First Person Outreach page.
The Offering: A Sculptural Site Intervention
Trent Gilliss, senior editor
Meditation and contemplation take many forms. Often we (at least I do) think of this act of introspection and focus as being a peaceful, tranquil experience where the noise of machinery recedes to make way for internal silence and harmony. But, Australian artist Robbie Rowlands' creative vision saddles up those moments of sitting and evaluating with the harmonious execution of circular saws and hammers. They are more than instruments of delivery; they are the yogis, to some extent:
"The cut, for me, is so violent. Well, not violent. It's incredibly tense. That's why working with the power tools is quite crucial to the work, because, it demands your full attention. You have to have full concentration."
Rowlands makes this point in the film above, which documents his dissection of a single story, clapboard church and community hall in Dandenong, Victoria originally built in 1904. Described as a "sculptural site intervention," The Offering uses only the materials contained within the structure itself to create the installation.
And, for the observer, the exposed layers of history reveal symbols and moments in time worthy of introspection. History becomes the meditative center. And, once again for a brief while, this church becomes an anchor in its community — and a spiritual center worth meditating upon.
Update (June 2, 2010): I just happened upon this radio documentary from ABC Radio National about The Offering. Aside from the visual, what differentiates this piece from above is its inclusion of residents who used to inhabit the space — from a member of a Hindu religious group to a man who used to take dance lessons there. Well worth a listen.
Paring
Alda Balthrop-Lewis, Production Intern
Before I arrived here in snowy St. Paul, not very long ago, I was living in Venice, Italy, sharing a two-bedroom apartment in the old Castello neighborhood with a scientist of sperm whale sound and a landscape architect. I worked days at the Peggy Guggenheim Collection in Palazzo Venier Dei Leoni on the Grand Canal, cleaning the base below the Calder mobile, washing the windows, selling tickets, and guarding rooms in which hung paintings by Picasso, Braque, Mondrian, Severini, Miro, and Pollock. Doing a boring job in a beautiful place is one of the greatest opportunities for meditation I have had, and I spent many hours comparing Mondrian's The Sea to the ripples on the canal outside the wrought iron grated windows.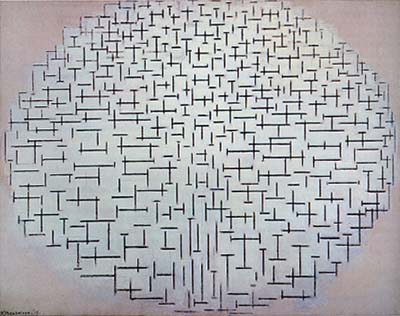 I became fascinated with a theme I saw in Mondrian's landscapes, Brancusi's birds, and Giacometti's human figures. Each of these artists purposefully spent years of his working life paring down, making an attempt to paint or sculpt the essence of a natural image, ever simplifying the visual language he used. They all believed, in some instances with a spiritual fervor, that it was possible to find and express essence.
When I was in high school, my best writing teacher came to me through Biology. She taught me to describe the beginnings of life in the "primordial soup" briefly, on one side of a piece of paper. This was a painful process of excision, of finding the fatty words lacking in meaning and cutting them until the essay became its leanest self. Poets use this practice too; they choose the briefest of all possible ways to spin the phrase. Annie Dillard's latest novel, The Maytrees, was originally a 1400-page manuscript, now just over 200.
Wise cutting makes for good writing and sculpture, yes, but since being in Venice I have come to see cutting away excess as a meaning-making practice too. Isn't this how ascetics craft their very lives? Wouldn't all our lives be more sustainable if we could, like the absract artists, pare away the metaphorical fat?
TimeGuards/SpiritGuards
Trent Gilliss, Online Editor
Figurative sculpture installations take on new meaning within the context of location. Art of the highest human form. Manfred Kielnhofer's sculptures accomplish this task. The transitory nature of the work remind me of Antony Gormley's public sculptures, especially his "Another Place" series of 200 craggy, metal figures on the ocean beach.


(photo: Matthew Beddow/Flickr)
But, the Austrian artist's work conjures up a more ethereal, mystical quality. They're shrouded in mystery calling out their ancestors and their progeny. When the viewer looks from particular angles, they become diaphanous, almost soulless — like the ring-wraiths, the Nazgul, from The Lord of the Rings or even a rougher-hewn predecessor in Prague.

Even the introductory paragraph of the Austrian artist's site reads like the opening to an ancient future, calling on the Druids of Stonehenge and the crusaders of Everquest or the worlds of Myst:
In the ages of the ancient advanced civilizations the presence of the Guardians of Time was recognized with respect, reverence and humility. Over the millennia a new mystery was formed and only a few chosen ones, like high priests, spiritual masters and shamans were granted to study it. They were the ones that got a deeper insight in the secret of THE TIME GUARDIANS. The beings were referred to as visitors from other systems, protectors or destroyers and even gods.
(photos courtesy of the artist)